SXM Media, the ad-sales division of SiriusXM's combined digital audio assets — Pandora, Stitcher, Simplecast, and AdsWizz — launched SXM Podcast Universe, a few weeks ago. It's a spacey interactive display of podcasts in the SXM network, and their audience characteristics. Today we test-drove it, and found it to be spacey, informative, and fun.
There is topical organization to this, brought to life by dragging down a right-side pull-down. The experience starts in Comedy, and scrolls through main podcast content categories — Society & Culture, News, Business, TV & Film, True Crime, and Science. Podcasts appear as circular floating entities. An atmospheric audio soundtrack accompanies the entire experience.
Wherever the user pauses in the podcast bubble display, each of the podcast spheres is surrounded by points of light. A control invites users to "Light Up My Audience," and it scrolls through audience characteristics like Parents, Income $75k+, African American, Hispanic, and Teens. Settling the scroller on any one of those causes the encircling lights around each podcast to glow around part of the bubble, representing how much of that show's audience consists of the chosen characteristic.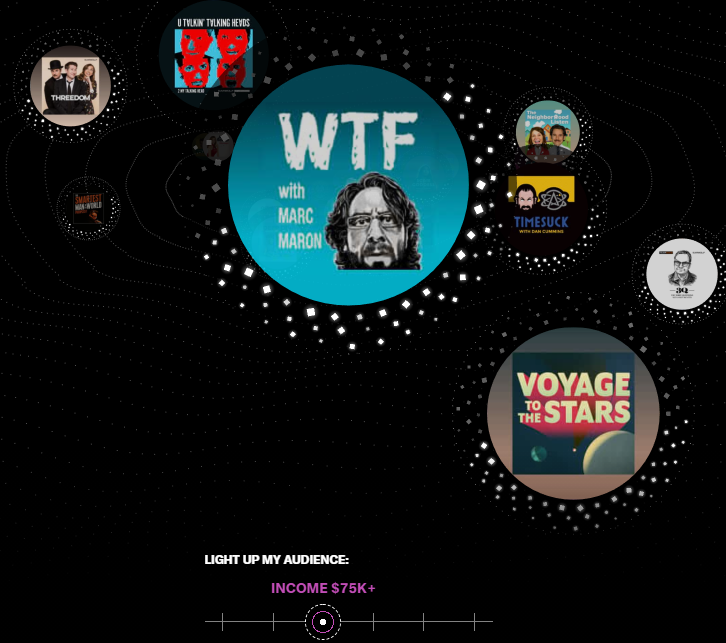 For a more exact view of a show's audience characteristics, clicking on a show bubble produces a sidebar with a rundown of audience demographics. There, at a glance, any buy-side visitor can get a snapshot view of audience composition (but not audience reach).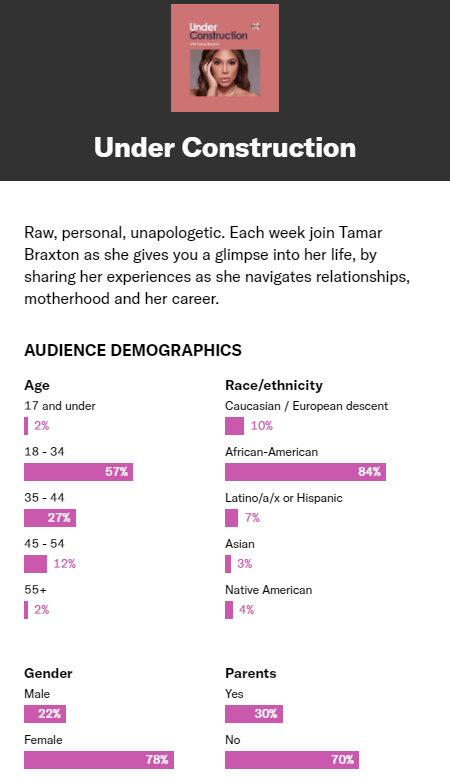 The sidebar is not available for all podcasts in the Universe. In some cases the sidebar displays: "NEW podcasts. Data is currently being collected, check back soon!" This means the podcast is new to SXM Media's data machinery; NBC Fast Money gets the "NEW Podcast" treatment, and it has a library of 958 daily episodes.
All in all, we think the SXM Podcast Universe is nicely executed, fun to browse through, a useful intro to the SXM library for buyers … and after 20 minutes of listening to the short-loop audio soundtrack through headphones, we never want to hear it again.
.