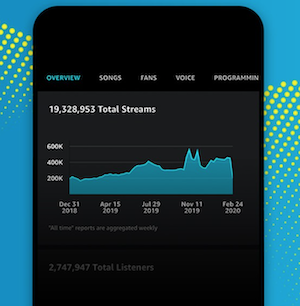 Amazon is launching analytics for performers using its streaming service. Amazon Music for Artists is available as an app for Android and iOS devices, with a companion website. The app is launching as a beta.
The analytics dashboard includes streaming data in nearly real time, a fan insights tab, and a custom date filter. Amazon is also offering details on when an artist's work is played on Amazon Music via an Alexa request with the Daily Voice Index. The Index includes Alexa requests by artist, album, song, and lyric.
Amazon has teamed with CD Baby as a verification launch partner for its analytics service. Any artist using CD Baby for distribution can get expedited access to join the platform.