Wells Fargo, the 4th-largest U.S. bank, has been spotted in Pandora this week with the bank's new "Small is Huge" campaign. The placement uses Pandora's most attention-getting ad unit in the desktop-browser player. The spot, which we encountered between songs in an electronica-focused music station, includes a 30-second video commercial which resolves to a full-page takeover.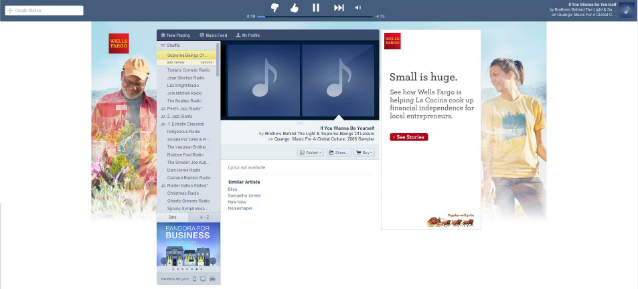 The "Small is Huge" campaign synchronizes with Wells Fargo Stories, which promotes the bank's small loans to local businesses and non-profits.
Wells Fargo digital-media buys are engineered by Universal McCann (UM). In March, Wells Fargo changed its lead creative agency to BBDO, leaving its 18-year creative partner DDB. The bank spends about $200-million a year on trackable media buys, and is the 70th-largest advertiser in the U.S.