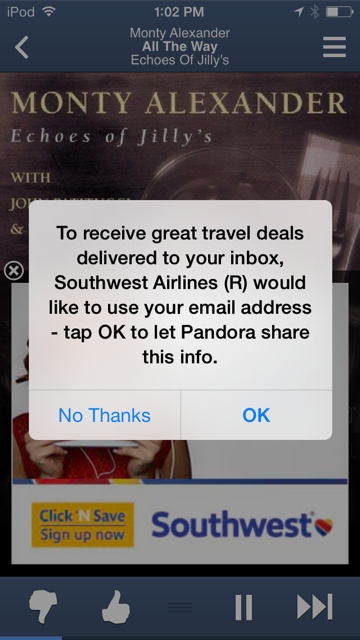 adStream is a journal of ad-stalking and interesting commercial sightings in streaming audio services.
---
In the relentless pursuit of streaming ads, we encounter plenty of "companions." Companion ads are (usually) banners that accompany audio spots in streams. Tracking the banner impressions is difficult, and companions are secondary to audio advertising which interrupts the stream and captures the listener's attention.
Aside from companions, banner advertising sometimes exists on its own, free-standing. We see a lot of them in Pandora's iOS app. Most of them can be close by touching an X in the corner. When we do that, another slides into the frame. We finally decided to test one of these visual-only presentations, and were surprised by the engagement which followed.
Southwest Airlines was the sponsor, and a pop-up asked for permission to collect an email address from Pandora's registration information. (See our conversation with Paul Cramer of Triton Digital about the importance of registration data.) As we were more interested in seeing the landing page, we declined permission. The ad refused to carry us to a landing page. We touched "OK," releasing the registered email address to Southwest — and that was the end of the engagement. There is no landing page in this banner campaign.
The ad's only purpose is to build a mailing list of Pandora listeners, perhaps accompanied by zip-code location which is also embedded in Pandora's registration profile. It's also possible the ad was displayed to our test Pandora account because of its registered location — for example, if Southwest has bargain flights involving a local airport.
Either way — whether Southwest is leveraging Pandora registration information, acquiring it, or merely harvesting random emails — the ad speaks to the value of registration information to audio publishers and their advertisers.