Venerable streaming music service AccuRadio sent around a notice that it has curated what the company describes as the world's largest playlist of holiday songs. We won't argue — this juggernaut of holiday cheer contains 17,000 tracks, and would require over five weeks of uninterrupted streaming to hear them all.
AccuRadio users should look for "Holiday Music: Wide Playlist." It is part of an extensive holiday offering containing 100 holiday stations. as part of the service differentiation, AccuRadio stations are programmed by people — no AI personalization. (During this time of year the station curators are called "programming elves.")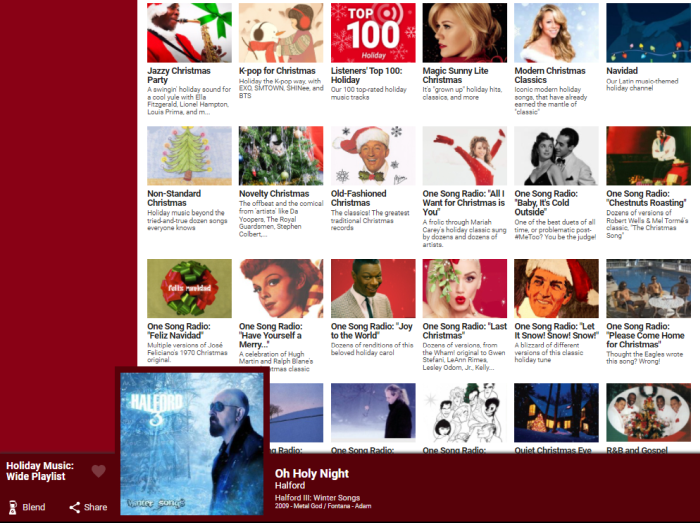 The entire holiday offering, including "Wide" is HERE.
In that extravagant mix are AccuRadio standby playlist types: "50/50" (half the songs are holiday oriented in various genres) and several "One Song Radio" playlists which feature multiple covers of single Christmas songs.
For registered users (it's free), AccuRadio's long standing Blend feature invites users to mash up multiple stations into one saved listening experience.
The 100 holiday playlists resulted from a New Year's?) resolution in 2020 to exceed the 81 channels developed that year. Today's announcement promises more to come before this year is out.
"Years ago, I started AccuRadio, now with its incredible array of channels, because I was tired of traditional radio stations playing the same songs over and over," said Hanson. "It's even worse at Christmas time, with FM stations typically playing a short playlist of about 200 songs over and over again. Maybe we've gone overboard with our 17,000-song channel, but what's the Christmas season without some extra joy and generosity?"
Kurt Hanson, Founder and CEO of AccuRadio, is Founder and Publisher of RAIN News.
.