Acast has released its Q1 2023 earnings report. The Sweden-based global company describes its finances as Swedish Krona (SEK). One SEK is worth 0.98 USD — nearly equivalent.
The four basic metrics Acast wishes to convey at a glance are number of podcasts, listeners, advertisers, and sales growth, as illustrated below: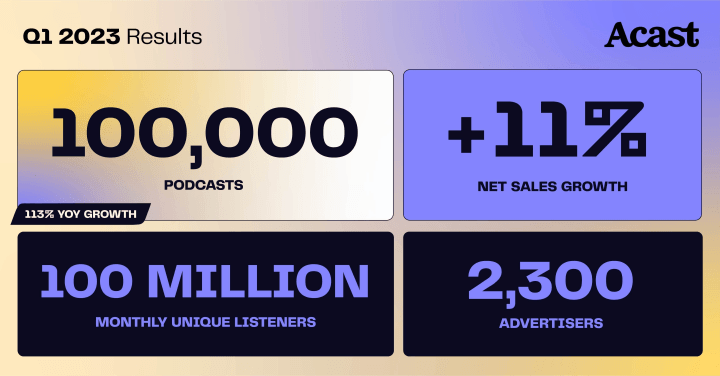 More detailed metrics include the following:
Net sales in the quarter amounted to SEK 331.3 M (298.3), which corresponds to net sales growth of 11% (51%)
Organic net sales growth amounted to 6% (40%), compared to a very strong first quarter of 2022
The gross margin for the quarter was 36% (36%)
EBITDA for the quarter amounted to SEK -60.7 M (-67.8) and the EBITDA margin was -18% (-23%). The improvement in the EBITDA result means that Acast is following the plan to reach a positive EBITDA in 2024
Operating loss amounted to SEK -78.0 M (-80.1)
Acast also itemizes significant initiatives in Q1, which we summarize below:
Acast introduced a new method for ad delivery, Interchangeable Ad Slots, which increases the volume of sellable ad space of our platform Acast Marketplace.
In January Acast conducted an industry study which surveyed the knowledge and thoughts about programmatic advertising in podcasting among US marketers, indicating a high interest and demand from advertisers but also a need for further education in how programmatic advertising can benefit and support marketers in reaching their target audiences.
The Bill & Melinda Gates Foundation announced a new podcast series called, Make Me Care About, hosted by award–winning podcast host and New York Times bestselling author Jen Hatmaker.
Acast initiated a partnership with Tonny Media, one of The Netherlands' most significant independent podcast production companies, improving podcasting content in the region even further after the market launch at the end of last year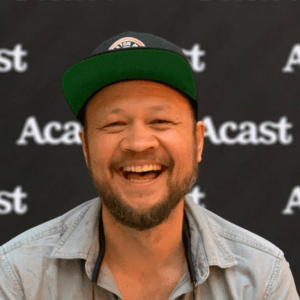 As we have seen in past reports, CEO Ross Adams contributes his leadership perspective.
"We see that interest in podcasts, as a highly valued channel for entertainment, learning and information, continues to increase among both listeners and advertisers worldwide," Adams says. He notes that Acast grew by 11 percent, of which 6 percent was organic. He observes that podcast success occurs during an advertising market that was "significantly weakened compared to a year ago."
"We see a continued positive trend in terms of programmatic advertising sales, our fastest-growing sales channel," Ross Adams notes.
The Acast platform now hosts 100,00 podcasts, and the number of unique listeners per month exceeds 100-million. "We have created a value chain and a platform that connects advertisers with podcast creators and their listeners. The more creators who join, the more listeners and exciting customer contacts are created for an increasing number of advertisers," Adams states.
The complete public-facing financial report is HERE.
---