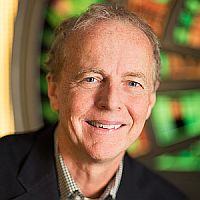 Kurt Hanson is the Founder and CEO of streaming music service AccuRadio, the Founder of RAIN, and the Publisher of RAIN News.
---
A Special OpEd and Announcement from Kurt Hanson, RAIN News Publisher
On March 11th (which today feels like many months ago), at AccuRadio COO Ben Husmann's suggestion, AccuRadio was one of the first radio industry firms and one of the first Chicago companies to close its office and ask employees to switch to working from home in support of "social distancing" (when I didn't even yet know what that term meant).
When things in the business world got a lot worse the following week (the conference business around the world shut down, advertisers pulling schedules from all media, etc.), I was worried about trying to make sure we would have enough work to do that we wouldn't have to lay any of our staff off.
As a result, I tried thinking of something we could contribute to the cause of fighting the spread of COVID-19 that used our particular skill sets, and this idea came up — a website that would provide a curated summary of news, opinion pieces, videos, podcasts, and other resources relating to the COVID-19 crisis. On the AccuRadio side, we know how to curate. On the RAIN side, we know how to curate news. So this project seemed both like it might have some value to society and it might be a good fit to our abilities.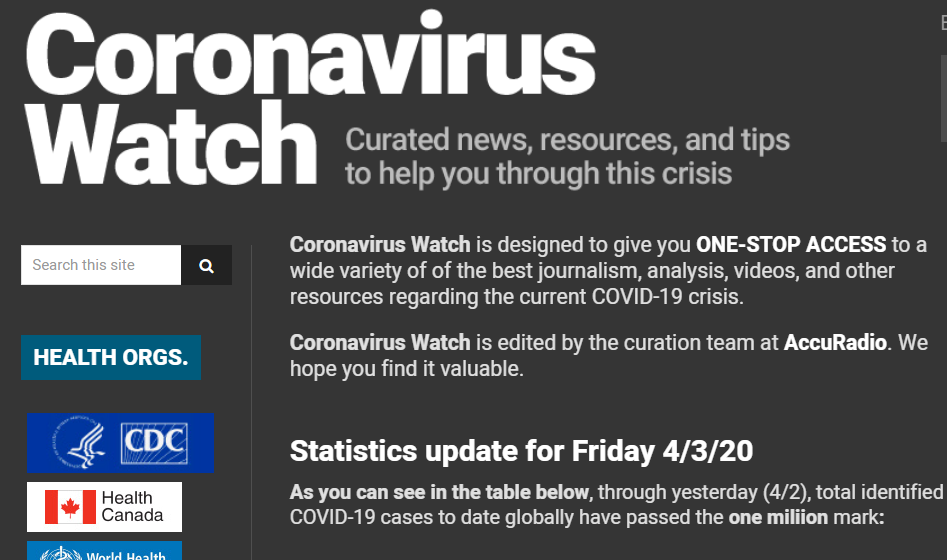 The result is CoronaVirus Watch.
We know there's already a lot of news out there — maybe even information overload! — but is there a segment of the population that would appreciate the information organized and synthesized? Especially if it includes links to great articles in lesser-read publications (e.g., The Atlantic has had some great writing on the subject lately) and videos and etc. that they might otherwise miss?
At any rate, between RAIN President Brad Hill, AccuRadio EVP Programming Paul Maloney, former Strategic Media Research COO Michelle Erikson, AccuRadio EVP Partnerships Jim Pavilack, Ben, and myself, with the help of several other friends and family members and colleagues, we got to work: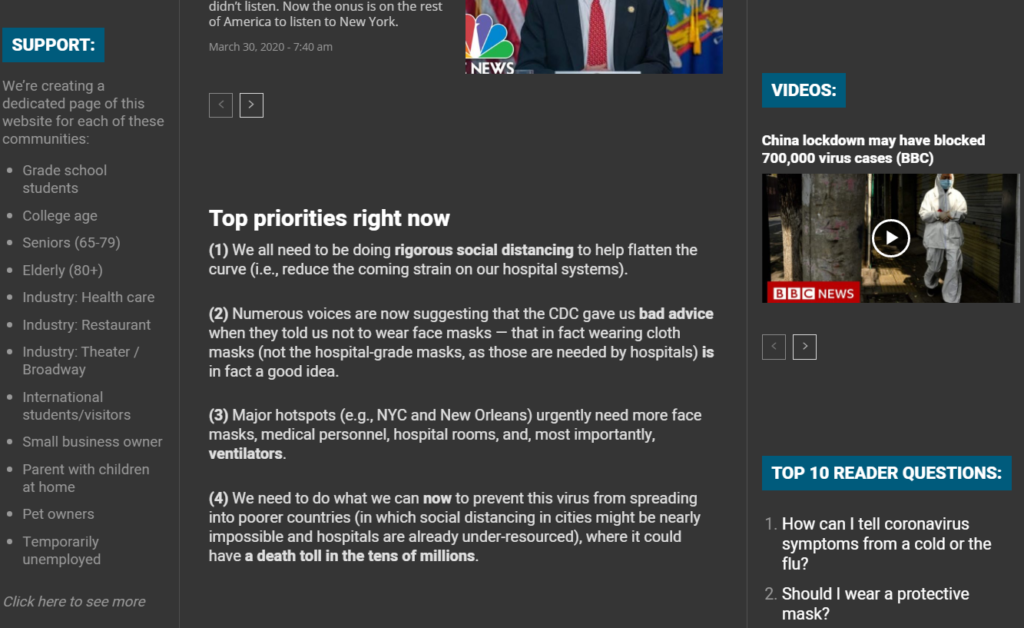 We sketched out a concept by March 14th, designed a prototype by March 16th, hired a WordPress developer (Jane Madsen, formerly with Emmis Interactive) by March 19th, had a rudimentary site built by March 22nd, started populating content into it on March 24th, started doing some consumer research on it (using an online service called Qualaroo) by March 26th, and started promoting it (in a ribbon at the top of the AccuRadio website) on April 2nd.
In the next few days, we'll see if it fulfills a user need or not (by seeing if we get return visitors or not).
We'd welcome any suggestions from anyone in the industry on how to fine-tune it, or improve it, or tweak the mission of what it's trying to accomplish. If anyone wants to write me at kurt@accuradio.com, I'll take seriously and certainly reply to each writer.
Although we're fine-tuning and improving it daily, if anyone likes it as is, they're totally welcome to promote it to their family, friends, and colleagues and in social media! (It's on a dedicated server, so it should be able to handle traffic.)
We'd also be very pleased if any broadcasters, webcasters, and/or podcasters who would like to promote this site on their broadcasts or digital properties (in which case we'd of course tone down the AccuRadio branding and could add links to their properties). As you can see, in the masthead there are positions reserved for the logos of three additional sponsors.
Again, just contact me at kurt@accuradio.com if you feel this project is one you'd like to get involved with.