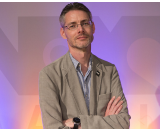 James Cridland, radio futurologist, is a conference speaker, writer and consultant. He runs the media information website media.info and helps organise the yearly Next Radio conference. He also publishes podnews.net, a daily briefing on podcasting and on-demand, and writes a weekly international radio trends newsletter, at james.crid.land.
---
Let's have a grown-up conversation about radio consumption.
Many radio companies are shouting about a jump in online radio listening. A 22% increase in time-spent listening on RadioApp in Australia and 26% increases in people asking to listen on smart speakers; 15% increase for Global Radio and for Bauer in the UK, 18% increase for the BBC. This is all good news – but it's only online radio. It's a platform shift, not necessarily more listening to the radio.
Nielsen has some historical data about previous events, arguing that we can expect consumption to increase. They've also released some "feel-good research", saying that "83% of American adults queried by the audience research company say they are spending the same or more time with radio as a result of the COVID-19 outbreak".
Once you get to the actual data, though, it's a different story. In Canada, PPM data for March shows an overall drop in weekly reach (adults 12+) of 6%, compared to February. This data is for the whole of March, and not just for the self-isolation period, though.
And, off the record chats with a number of people across North America leads me to believe that figures in PPM markets in Canada and the US are showing significant drops, especially for music radio. Not that surprising – if you had a 45-minute commute where you listened to the radio, that clearly doesn't translate to 45 minutes of listening in the kitchen. I don't know what you're seeing, but I'm certainly not seeing more "me-time"; indeed, the time I have available to listen to my own media is rather less.
It's likely, though, that many of us won't know what effect the coronavirus has on radio listening. In Australia, radio surveys 3,4 and 5 are to be put on hold: the ratings are mostly done by face-to-face interviews. In the UK, RAJAR reckon that Q1's figures will be fine (fieldwork ended in late March), but there's a clear question for Q2 (Apr 1 to Jun 23), given a large proportion of the data is, again, face-to-face interviews.
I'm really interested to see what happens in the US; electronic PPM measurement should mean that research should be unaffected, and we should see some data from April 20, if they publish. But if some stations are down 35% or more, as I'm hearing, what does anyone gain from publishing this kind of data?
While there are many academics studying the change to TV viewing during this time, radio's place in the media landscape means virtually nobody is studying how radio listening is changing during this period. There are virtually no radio-only companies left on the stock market, so no investment analysts carefully examining the numbers, either. Radio companies can release "we're doing GREAT look at our online streaming increases!" and few will appreciate that online streaming was just 12.5% of radio listening in the UK, or 12.7% of radio listening in metro Australia. If online is up 25%, then it means online radio listening is still 16% of all radio consumption. That's not going to save anyone.
Good luck everyone.
---
Where radio will make a real difference (even if consumption is down) is with mental health. If you're a government agency, now is the time to ensure that your media companies are in good health, and to help them continue broadcasting – the valuable "shared experience and human connection" that radio offers is vital.
As we face, by some estimates, six months of being locked in our homes – unable to go and chat to others in the pub, or pop down the road to visit some mates, or even a nice morning pottering around the shopping centre – peoples' mental health will suffer. Radio has a proven effect here in terms of altering your mood. It's no exaggeration to say that, done well, radio will save lives. I hope governments and health departments understand how important it is.
---
How's podcasting doing? It's a mixed bag. Podtrac, which samples a large number of popular publishers in the US, is showing a significant decline in downloads; Chartable, which uniquely also pulls in actual listening figures rather than just downloads, also sees declines of about 20%. They also show a decrease of downloads via cellular networks. Podsights also interviewed some advertisers.
Some show different. The German podcast hosting company Podigee says downloads are up 6%; though what's also interesting about their figures is that web player consumption has significantly increased – again, a change of platform. Acast also reports good news, and also says that smart speaker usage has increased for podcasts – up nearly 30%, they say, though smart speaker usage is rather less than 2% of all podcast listening.
It's a bit of a more murky world for podcasting. Many apps download automatically, so the download is still occurring (Apple stop after you've not bothered to listen to four or five shows; other podcast apps just keep going). And some podcast publishers are reporting that they had 6% more downloads in March than in February – yet March has 7% more days in it than February, a point lost on the few news sources that took that story.
---