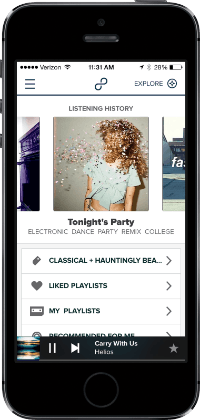 8tracks, the highly differentiated music service that encourages users to create "online mixtapes," today released a top-to-bottom redesign of its iOS app, and disclosed its latest audience and business metrics.
"This is a big thing for us," Founder and CEO David Porter told RAIN. "We're hoping this will be a big event in our history. We launched our 2.0 version of the app in October, 2012, and I think this is just as important — a big step up in functionality and usability."
Mobile and Profitable
Today's announcements represent a confident stake in the ground for 8tracks, which (unlike many services which receive more publicity) has been profitable since mid-2012. Total venture funding for 8tracks totals $1.5-million since its founding in 2008. The company's economics will presumably go deeper into the black from here, as it has recently started selling ads directly.
Those visual ads appear in the updated mobile app in newly-designed native units placed in horizontal and vertical swiping — we did not encounter any audio commercials during testing.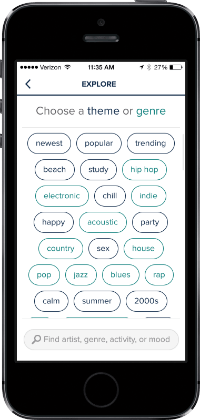 The redesigned mobile experience leverages 8tracks' exceptionally high mobile use, especially with young users. David Porter told RAIN that 70 percent of users in the 18-34 demographic listens to the service in mobile — by far the highest percentage of mobile use in that cohort among the top 14 music services, as tracked by comScore. Overall, a little more than half of 8tracks' total audience listens via mobile apps.
Porter also pointed out that 8tracks is the #3 "Internet radio network" on the iOS platform, after Pandora and iHeartRadio.
The New App
The most immediately noticeable change in the new 8tracks app is the Home page. Previously, the Home selection pulled out a navigation menu. Now, Home is a full-screen presentation of where you left off listening in your last session (on any device), the playlists you've Liked, a set of recommendations based on your history, and options to dive back into previously explored tags.
In general, the new app experience feels wider than previously, thanks to more use of horizontal scrolling. Browsing and exploring are also more immediately at hand, thanks to the more expansive Home screen.
As before, user-created playlists are mapped by user-created tags — this system hooks into the popular mood/activity type of music curation in play at other services, but with greater range and inventiveness. Since the playlist creators can assign any tags they want, including unique made-up ones, exploring the tag universe in 8tracks is fun, surprising, and results in fresh-as-dew discoveries. In our view, 8tracks is one of the greatest music-exploration venues available today.
Audience Metrics
When we last checked in with David Porter in February, 8tracks boasted of 6.5-million active monthly listeners (people who click a Play button, not just roaming around the service looking). That metric has grown about eight percent in two months, to 7-million active listeners. Those users hear an average of five hours of music per month, and the service streams 32-million listener hours each month. (Two-thirds of those hours are delivered via mobile.)