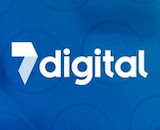 7digital, a digital music B2B company, has borrowed £500,000 from an unnamed lender. The loan is intended for working capital purposes, according to the company. "7digital has signed multiple contracts in recent months and this facility provides additional financial flexibility to execute on our healthy pipeline of deals with companies and innovators seeking to capitalise on the growth in audio and music streaming," Chairman Tamir Koch said.
Koch joined 7digital while the business was in recovery after a challenging 2018 and 2019. The company faced bankruptcy during that period and saw a few changes in leadership. In January 2020, 7digital said it was on track to see a full recovery this year and reach operational profit in the first half.
"This debt facility will support the Company's growth with non-dilutive funding as it continues to make rapid progress towards operational profitability by the end of Q2 2020," Chairman Tamir Koch said.