Resulting from its Media Executive Webcast Series, Advertise Perceptions has issued a report called the Coronavirus Effect on Advertising Report. It's a trade survey of marketing and sales execs, one-third marketers and two-thirds agency buyers. The 152 participants come from the company's "Ad Pros proprietary community."
The purpose is to determine how ad spends are shifting among media categories during the coronavirus disruptions, and to project how and when those shifts will play out through 2020.
From the start, the report itemizes severe spending disruption, with projections getting worse over two survey periods (March 17-20 first, then April 1-4 second). See below:

Advertiser Perceptions refers to the damage as "asymmetrical across verticals," meaning simply that some product categories (and ad media categories) are suffering ad-dollar loss more than others, or differently from others. In organizing the data, the report divides products into two main types:
"OUT-AND-ABOUT" (restaurants, entertainment, et al)
"HUNKER-DOWN-AT-HOME" (food, drink, gaming, et al)
Woking with those two helpful divisions, the report charts a percentage of paused or canceled media campaigns across media categories, including digital audio. See below: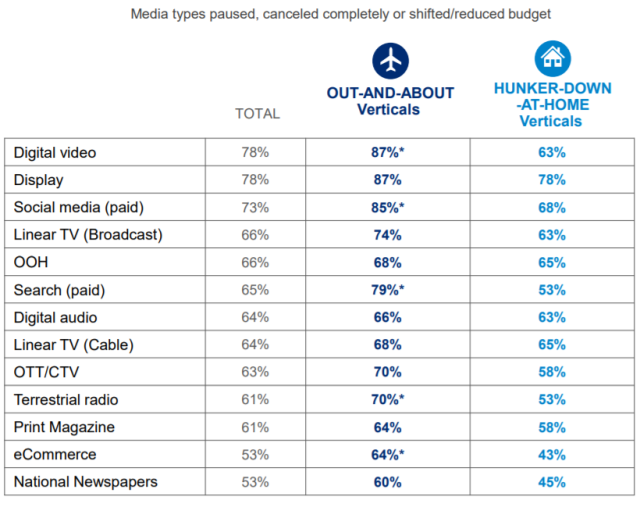 If there is a silver lining to those devastating numbers, it is that money is moving sideways also, representing a shift, partly ameliorating an outright withdrawal of ad dollars. See below: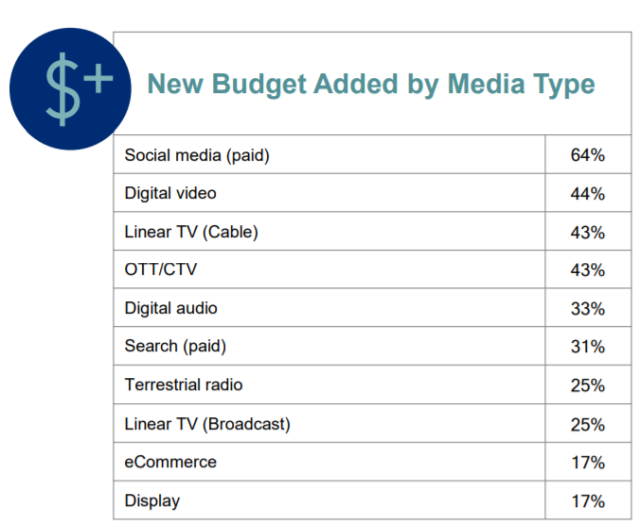 A key atakeaway: Advertisers will keep their eyes locked onto the virus — not the market — for guidance on how to spend during 2020.