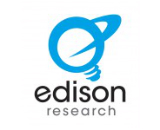 Edison Research released a snackable datum from its ongoing Share of Ear subscription research project. It is this:
"Listening on a mobile device now accounts for 30% of all time spent listening to audio by those age 13+ in the U.S., an increase of 67% since 2014." –Edison Research, "Share of Ear" report
This metric has been on Edison's radar since 2014. At that time, 31 percentage points separated mobile listening from the more dominant radio receiver listening in the 13+ age population. Today, only five percentage points separate the two. Edison is quick to point out that AF/FM radio still enjoys the greatest time spent (which is what Share of Ear measures), but has also decreased its share more than any other audio category since the survey began. AM/FM gets 35% of all  audio listening among U.S. adults and teens; in 2014 it was 49%.
The disparity is expressed even more on the young side. This from Edison: "Mobile devices have already surpassed traditional radio receivers in the younger age groups. Among those age 13-34, 46% of total daily audio consumption is done on a mobile device and 20% is done on a traditional AM/FM radio receiver."
Important to note that while we are comparing devices for AM/FM listening, the broad 30%-mobile headline applies to all kinds of audio content, from radio to streaming music to podcasting.
Shifting routines during Covid-19 might have played a role in the smartphone uptick, especially regarding a drop-off of in-car commuting, where the radio receiver is nearly always available, often prominently. Edison suggests waiting a year to see whether current metrics hold.
.