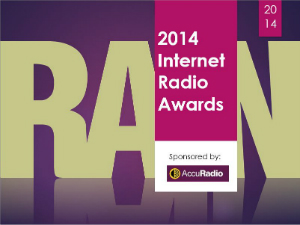 The 5th Annual RAIN Internet Radio Awards concluded yesterday at RAIN Summit Indy, when the final winners were announced by RAIN News founding editor Kurt Hanson and managing editor Brad Hill.
The RAIN Awards honor excellence in five categories, covering pureplay streaming, broadcast webcasting, international excellence, digital strategy, and the best overall online radio service.
A 10-member panel of judges evaluated 33 finalists across the five categories. See these posts for this year's runners-up.
Here are the 2014 RAIN Awards winners:
BEST SINGLE STREAM WEBCASTER: Idobi Radio (www.idobiradio.com) Last year: The Blast
BEST STREAMING BROADCAST STATION (tie): WWOZ (www.wwoz.org) and KING FM (www.king.org) Last year: WEEI/Boston
INTERNATIONAL EXCELLENCE IN ONLINE AUDIO: Karnaval.com (www.karnaval.com) Last year: Radionomy
BEST OVERALL DIGITAL STRATEGY: Radionomy (www.radionomy.com) Last year: TuneIn
BEST OVERALL ONLINE RADIO SERVICE: Pandora (www.pandora.com) Last year: Pandora
Many thanks to our participants, and congratulations to all our nominees for their excellence!