At RAIN Summit West in April, keynoter Jason Calacanis caused a stir when he held up a phone and chanted, "Mobile is the only thing that matters, mobile is the only thing that matters."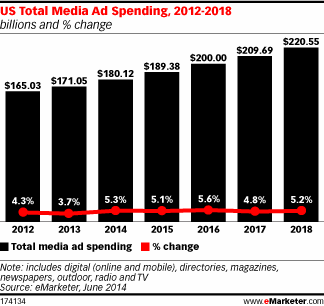 An echo of that prediction can be seen in new research from eMarketer, which proclaims that a shift to mobile helps define the largest growth in total media ad spending since 2004. Total media spending will reach $180-billion in 2014, according to the research projection — that's a 5.3% boost from 2013. Vigorous continued growth is predicted through 2018, when the total is $220-billion.
In that time frame, starting this year, mobile advertising will surpass legacy radio ad revenue (not counting "off-air radio" and webcast streams), newspaper ad spends, and magazine advertising.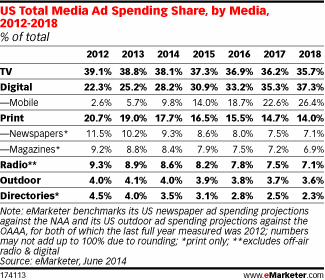 The divergence of those trend lines widens during the five-year projection period, as measured by share of the market. Mobile share is pegged to grow from 9.8% this year to a whopping 26.4% in 2018. Radio, meanwhile, slopes downward from 8.6% to 7.1%. Newspapers and magazine also hit the skids in the eMarketer model.
The broad category of digital ad spending (including mobile, which is broken out as a headline point of the research), already owns a hefty market share, second only to TV — a quarter of the ad-revenue market in 2013, growing to 37.3% in 2018.
eMarketer says that a "time spent" metric is chiefly responsible for driving ad dollars onto smartphones and tablets. (Not all research models place tablets in the mobile category, as eMarketer does.) An eMarketer time-spent report from April, shows meteoric growth in mobile usage between 2010 and 2014, gentle declines for radio and TV during that time, and slippery slopes for magazines and newspapers.
The biggest winner of both charts is the "Digital" bucket, which includes several kinds of new-media advertising, and which is projected to claim nearly half of all U.S. time spent by the end of this year.