Jennifer Lane is CEO of RAIN Enterprises, and co-founder of the influential RAIN Internet Radio Awards. 
---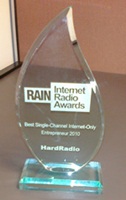 Bragging rights for best online station are up for grabs now, as RAIN prepares to award the Fifth Annual RAIN Internet Radio Awards. Presented by RAIN News, this self-nominated awards competition is open to all streaming stations – and it's free to enter. Winners will be announced at RAIN Summit Indy on Tuesday September 9th.
Five years ago, Kurt Hanson and I started these awards as a way to bring the industry together to celebrate excellence. We started with three categories, then expanded to four, and this year we added a separate category for International streaming platforms, bringing the categories to five:
Best Overall Online Radio Service
Best Streaming Broadcast Station
Best Overall Digital Strategy
Best Single-Stream Webcaster
International Excellence in Audio
You can review the criteria for each category here, and enter the competition as well.
This is a competition for streaming audio services of all shapes and sizes, designed to include everyone, and celebrate excellence in our industry. If you haven't submitted your service for consideration yet, please do it before the awards close on July 20th. Past award winners have included many great stations and platforms like Pandora and iHeartRadio, WEEI and ESPNRadio, Hard Rock Radio and The Blast.fm.
To submit your service right now, click here and complete the very simple entry form. You can't win if you don't enter, so do it today!
Know someone who should enter? Forward this article to them and encourage them to do it today!