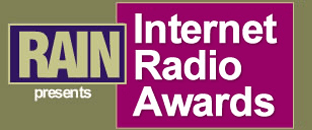 The RAIN Internet Radio Awards recognize the achievements and the best practices of the Internet radio industry. The awards will be presented at RAIN Summit Indy on September 9, 2014. The deadline for nominations is Sunday, July 20, 2014.

The RAIN Internet Radio Awards recognize excellence in five distinctive categories:


Best Overall Online Radio Service
For the station/webcaster that provides the best overall online listener experience. Judges may consider programming, technology, popularity of the service, attractiveness of the site and/or player, ease of use, operational sustainability, integration of advertising assets (if applicable), and other criteria. Nominated services may be single-channel and multichannel "online only" operations or streaming broadcast stations.
Best Streaming Broadcast Station
For the single broadcast station that has executed the best streaming strategy. Judges may consider ways that the station has extended and enhanced its brand through the use of online streaming. Only broadcast stations that stream online are eligible.
Best Overall Digital Strategy
For the broadcast station, broadcast group, or online-only webcaster that has implemented the finest overall digital strategy. Judges may consider mobile, streaming, websites, downloads, video and/or other features. "Online only" services, broadcasters, and streaming broadcast stations are eligible.
Best Single-Stream Webcaster
Celebrates the best pureplay webcaster with a single stream of radio content.
International Excellence in Audio
Celebrates excellence in streaming audio among services not based in the US.