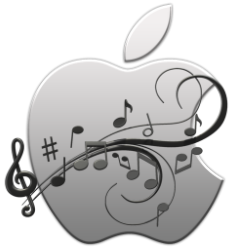 Apple's fiscal Q1 earnings report, characteristically, did not break out specific numbers for its Apple Music service, but did refer to it optimistically. To hear CFO Luca Maestri tell it, Apple's music mojo is back.
"On the music front, we are the market leader in digital music," he said. "Obviously now, by having the combination of the download business with the streaming service, which we didn't have until recently, we've been able to bring our music business back to growth."
When Maestri says "streaming service" he means the on-demand, subscription-based Apple Music, which includes the once-public, now-firewalled iTunes Radio, which did not success as a stand-alone internet radio product. (iTunes Radio was launched in September, 2013, widely and wrongly hailed as a "Pandora killer.")
The audience subscription number for Apple Music stands somewhere north of 20-million. market-leader Spotify (leading in terms of on-demand subscribers) is Spotify, with at least 40-million paying users.
Exclusive music releases continue to play a part in Apple's music-business thinking, according to Maestri: "We've had very good success with exclusives. So we know that it's another business that we can grow." Music exclusives are not without controversy among online audio pundits, content providers (labels), and internet music services. Apple and Tidal have waged a competition to sign up major artists with exclusive releases of albums, tracks, and videos.. Spotify does not generally play that game, and has sometimes signalled that it is philosophically opposed to limiting music distribution that way. "Exclusives are bad for artists, bad for consumers and bad for the whole industry," Troy Carter said last August — he is global head of creator services at Spotify.
Apple Music is part of the company's Services division, which earned $7.2-billion in fiscal Q1. that's a 13% quarterly growth, and 18% year-over-year. The iOS App Store is the big driver of Services revenue for Apple.