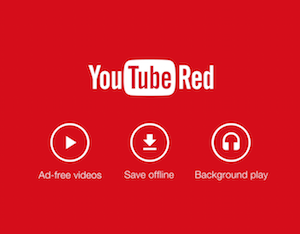 YouTube has at long last unveiled its paid, ad-free video subscription service. It's called YouTube Red, and it will cost $9.99 a month. The current launch date is Oct. 28, with one month of a free trial. It will only be in the U.S. for now; other markets are expected to roll out next year.
As predicted, a subscription to YouTube Red will include access to a redesigned YouTube Music app, which will replace Music Key. YouTube Music will integrate with Google Play Music, so subscribers to one service will automatically have access to the other. In addition to the typical content of remixes or live shows that have long set the video platform apart as a music source, YouTube Music will also have better discovery tools, listener recommendations and customizeable stations. At this stage, it sounds like the platform will offer a blend of interactive and lean-back features. This is a move toward finally unifying Google's various entertainment properties; for awhile it was hard to keep the different services' long names straight.
Outside of the music platform, YouTube Red focuses on original content and improved user experience. The service will have ten new series from online talent such as PewDiePie, the Fine Bros., Tobuscus, Rooster Teeth, and CollegeHumor. For viewers, the updates include saving videos for offline viewing and playing videos in the background.
The big question for YouTube Red remains: will people pay? YouTube has been a free service since it began, and it has explored different angles on how to both generate money for creators and for the rights holders of content that appears on its platform. From what we've learned so far from the launch event, it seems that the YouTube and Google teams have worked hard to make the subscription tier and the music service appealing and worth the investment. The combination of video and music content for the same price as most platforms (Netflix, Spotify, etc.) that focus on just one does make it a comparatively good deal. But that doesn't mean long-time viewers will be quick to convert.