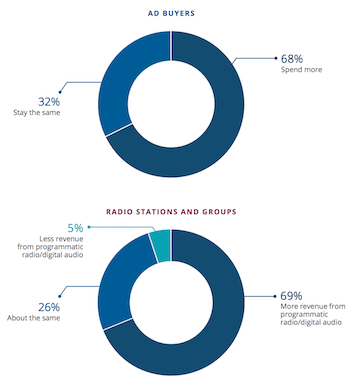 WideOrbit has published a survey about programmatic advertising to ad buyers and radio industry professionals. Overall, the ad buyers showed a greater interest and willingness to pursue programmatic options, while radio stations and radio groups were more likely to have some cautious voices alongside the optimistic ones. Nearly two-thirds of the almost 9,000 professionals surveyed said that they plan to transact with programmatic platforms in the next year. Almost 90% of the ad buyers said the same. Both groups expect to increase their programmatic spending in 2018.
The next year will likely hold growth for programmatic platforms, with 87% of buy-side respondents and 64% of stations and groups stating that they are selling or plan to sell through that technology. However, there are still some holdouts. More than a third of the radio station and group respondents said they do not want to enter programmatic advertising. The reasons for seeking out programmatic tools are also different between the groups. Radio stations and groups are most excited by the chance of orders from new advertisers and increased sales. Ad buyers want features that make campaigns more efficient or effective.
Online music streaming was named as the top type of inventory that interested ad buyers at 93%. Digital audio streams of radio content came second at 67%, followed closely by broadcast radio stations at 65%. Half said podcast inventory was of interest.