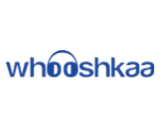 Whooshkaa announced some updates to its podcast hosting plans. First, it added features to its Forever Free option. Second, it launched a new, paid option with more comprehensive tools.
Members at the Forever Free tier will get automated transcription of up to one hour of audio content per month. The transcripts can be edited, saved, and downloaded from a tab in the Whooshkaa Dashboard. It also added dynamic content insertion, which can be used to put advertisements, promotions, or other announcements in a podcast. Ad campaigns can help to monetize a show, and can be targeted by genre and listener location. There's also a 5GB media library for storing files outside of the podcast episodes.
The new option for Whooshkaa clients is the Pro plan. It's designed for existing podcasts with more than 10,000 listens per month. The plan offers four hours of automated transcripts per month, 50,000 dynamic ad impressions, and a media library with 20 GB of storage.