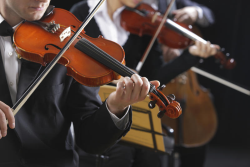 Classical music is a niche category, one which might be shrinking as its main demographic ages. Its presence on radio has reduced again and again over 60 years, even on public stations where specialized music can find audience. Online streaming is one obvious place for classical lovers to find their music. WGCU in Fort Myers, Florida, offers a fully lean-back experience by announcing a 24-hour classical HD Radio extension.
The HD station started on July 17, and features a fully staffed DJ corps spinning symphonies, operas, and sonatas. the plan is to take it online also, according to the announcement.
"In the weeks to come, WGCU will add a listen live online free service to our website. WGCU is also working to add Classical music to our free mobile app.  Stay tuned as we develop other digital ways to listen to WGCU Classical music."
WGCU is part of Florida Gulf Coast University, and claims to cover a fifth of the state.