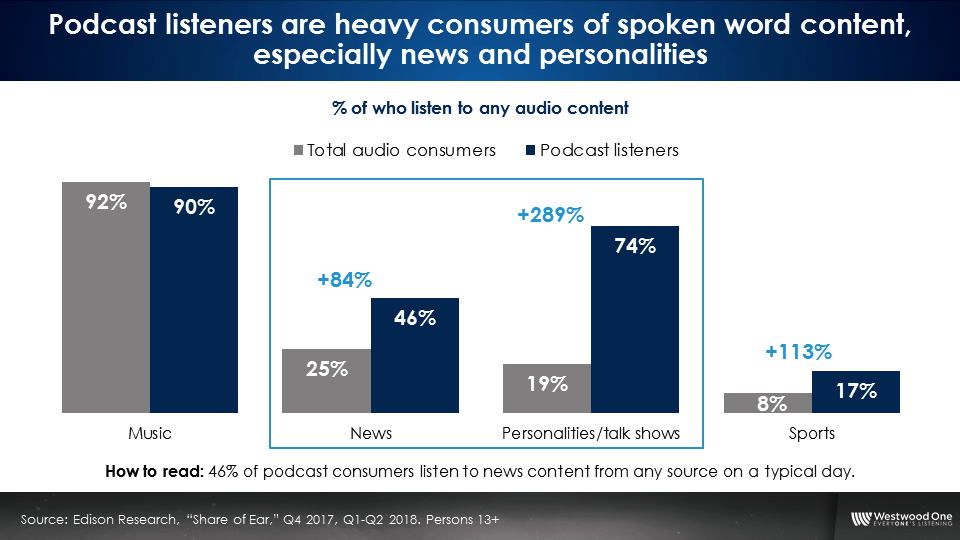 Westwood One has released a report exploring the audio landscape, with podcasting and smart speakers drawing particular attention. The study leveraged data from the Share of Ear and Infinite Dial studies to explore trends for the podcast audience as well as tracking the adoption rates for smart speakers.
The Westwood One 2018 Audioscape report analyzed trends among the podcast listener audience. These people showed high rates of consuming other audio content besides podcasts. News and talk shows had the biggest gaps between podcast listeners and the average audience. Podcast listeners had a 46% rate for news listening, compared with 25% for the average listener. In personalities/talk shows, the rate was a whopping 74% for podcast fans and just 19% for total audio consumers. Music consumption was even: 92% for the general audience and 90% for the podcast audience.
Westwood One also created a profile of the most common smart speaker owner. The study found higher rates of these consumers being male, at least college educated, and with a household income of at least $75,000. Although ownership rates are highest among the Millennial and Generation X age brackets, even the 55+ age group posted 20% rates of smart speaker ownership.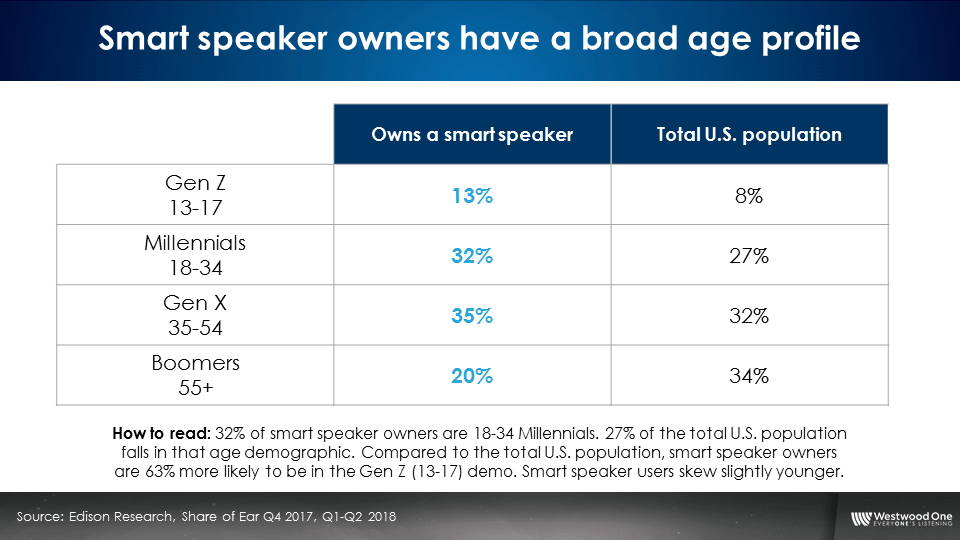 The adoption rate for smart speakers has outpaced the early days of smartphones. In the three years following the release of the iPhone in 2007, 15% of Americans owned a smartphone. Ownership rates of smart speakers have reached 20% in the three years since Alexa was introduced as a voice platform.
Podcasting and smart speakers demonstrated a steady overlap, with 10% of podcast listeners using smart speakers. Pandora listeners and Spotify listeners each had 8% rates. The average for the total U.S. population is just 4%.