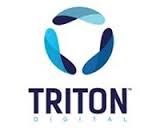 Webcast listening in October grew one percent compared to September numbers, according to Triton Digital's Webcast Metrics Top 20 Ranker, released today.
Mobile listening continued to power growth, and was up 14% for pureplay streamers and up 15% for radio webcasts, year-to-date.
Market leader Pandora remained essentially flat from September, while second-place Spotify saw a 3% lift. In the whole top-20, the top percentage gain was in ESPN Radio, up 11% over September.
The nominal figures, which show the number of average streams, reveal Spotify as the biggest gainer in September, with 28,000 more active streams on average (in a total of nearly one-million). As always, we look at Average Active Streams (AAS), U.S. streaming from 6:00am to midnight, Monday through Sunday.
As in the previous two months, AccuRadio was the year-over-year gainer in listening, rising 29% above October of last year.
Looking at the year-over-year gain for the whole top-20 group is complicated by Spotify's entrance in the Ranker, starting in January. Without Spotify's contribution the year-over-year of webcast listening was 6%. To get a more accurate view of webcast listening growth, we interpolated a Spotify AAS number for October 2014, based on a backwards-drawn growth line from January 2015 (Spotify's first month in the Triton Ranker) to the U.S. launch of Spotify in July, 2011. We arrived at an AAS of 620,000 for Spotify last October. (This is a RAIN News estimate, unaffiliated with Triton Digital or Spotify.)
Including this estimate (Spotify estimated at 620,000 in October 2014, growing to a measured 964,998 in October 2015) generates a 16% year-over-year growth of top-20 webcast listening.
Here is the historical trend chart of the top five leaders: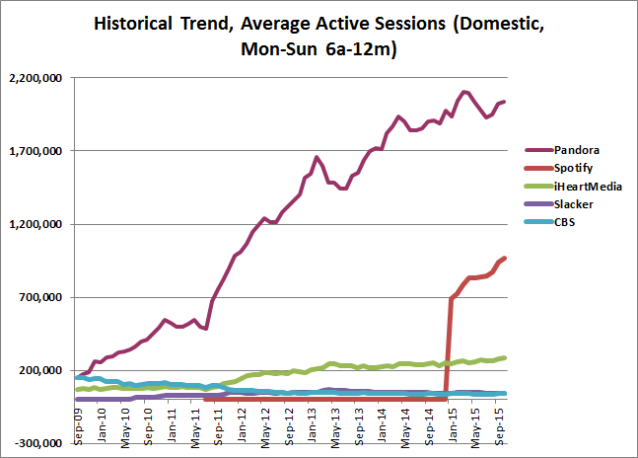 Here is a year-over-year illustration of the Top 20 Triton group, with Spotify added in the 2015 stack: