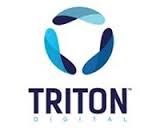 Webcast listening in August inched upward from July's numbers, according to Triton Digital's Webcast Metrics Top 20 Ranker, released today. The aggregate of Triton's top 20 measured clients moved one percentage point upward month-over-month.
Mobile listening was 74% of all listening in July, according to Triton's mobile vs. desktop breakout.
In the top five Triton performers, AccuRadio led the top-20 group on a percentage basis, gaining 12% over the July report. Market leader Pandora, which always tops the Triton listening Ranker, was lifted by one percent over July.
As always, we look at Average Active Sessions (AAS) through the Monday-Sunday, 6:00am to midnight filter, U.S. domestic streams only.
Looking at the year-over-year gain is complicated by Spotify's entrance in the Ranker, starting in January. Removing Spotify's August AAS numbers from the total provides a more realistic snapshot of year-over-year movement of webcast listening generally — in August it was a 5% annual gain. AccuRadio was the year-over-year winner, with a 37% increase. Nominally, looking at sheer number of streams, the annual growth was mostly powered by Pandora (+96,000 average sessions) and iHeartMedia (+30,000 average sessions).
Looking at year-to-date, including Spotify, shows a 6% lift, mostly fueled by Spotify's listening growth in 2015, which was 27% in August over the January report.
Top-growth  audio categories in August listening were News/Talk (+9%) and Sports (+8%), Triton noted in its commentary of the report.
Here is the historical trend chart of the top five leaders: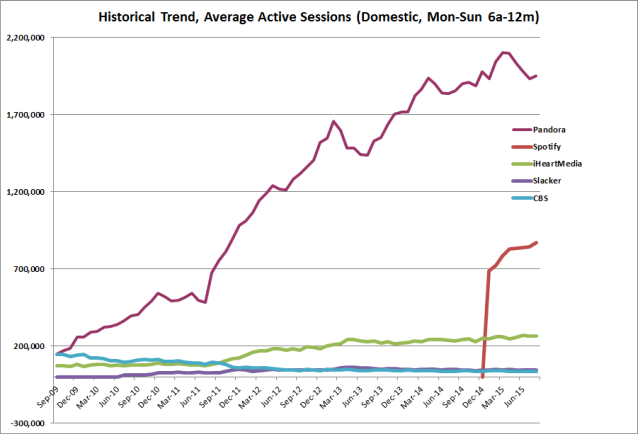 Here is a year-over-year illustration of the Top 20 Triton group, with Spotify added to January, 2015.