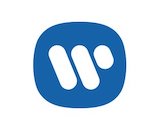 In its fiscal-Q1 earnings report (quarter ending December 2020), Warner Music Group reported its highest overall quarterly revenue in its history as a standalone company, and 16% digital revenue growth.
"While certain areas of our business remain challenged due to COVID, our core streaming business remains strong and our direct-to-consumer destinations and emerging streaming platforms have bolstered our performance," said Eric Levin, Executive Vice President and CFO.
In dollars, total revenue for the quarter was $1.3-billion. Of that, $825-million represented digital revenue, a 15% increase year-over-year. At the same time, net income dropped to $99-million from $122-million in the year-ago period.
"We're very fortunate that our core streaming business remains as strong as ever and that music has a rapidly growing presence in new and diverse applications," noted CEO Steve Cooper. "We continue to see robust growth in both subscription and ad-supported streaming with plenty of runway around the globe."
Streaming was emphasize over and over in the earnings call. Here is Eric Levin again: "Streaming as a category saw growth across all key components, with both subscription and ad-supported streaming growing double digits and growth in revenue from emerging streaming platforms far outpacing the broader category." He noted that physical revenue declined 9%, and we note that in the most recent RIAA report of American recorded-music revenue, physical music products (CD, vinyl, etc.) accounted for only 9% of total revenue. The music industry (at least in America, not forgetting that Warner is an international company) is mainly a streaming industry, claiming 85% of total revenue in the RIAA's reckoning.
The RIAA also notes that subscription streaming is a much larger dollar segment than ad-supported (free-listening) segment. Warner categorizes streaming in three divisions: subscription, ad-supported, and "emerging forms of digital revenue." Levin said that subscription and ad-supported are growing in parallel trendlines: "Subscription and ad-supported are, I would say, now both in line, both growing similar amounts in double digits, and that is great. Subscription has been growing from COVID double digits throughout the whole time, but advertising initially took a dip and then has, quarter by quarter, been showing progress […] So it feels like the ad-supported streaming has really recovered."
When it comes to those emerging platforms, Eric Levin referred to a few specifics: "We see music becoming more and more integrated across social, gaming, metaverses, the various places where live streaming is integrated […] And we see it as being very early days, and we see the ubiquity of music across so many different forms, both existing and new, really kind of just finding a stride that we fully expect to be managing that line for growth." He mentioned Tik Tok as an important platform for breaking new acts. 
Live streaming was invoked several times during the call as an area of focus. Steve Cooper talked of "establishing a sound foundation in live streaming and working on establishing live foundations in this interactive world's heat."
.