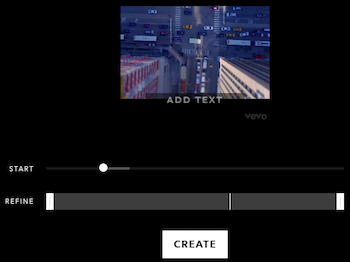 Vevo has added a new feature for making animated GIFs from its hosted music videos. Not all videos in the library are available for creation of the five-second looping clips at launch, but Vevo said it is working to have the rights to include as many as possible.
The GIF tool is only available on Vevo's website, but the mobile app is expected to see a rollout next month. For now, any GIFs made from a Vevo video can only be shared to Twitter or Facebook. Again, the company is considering whether users should also be able to directly download their GIF creations for use anywhere.
The company has been actively working to secure more viewers as it untangles its business from that of YouTube. Vevo has been making some hires with an eye to expansion, including a chief people officer and a new head of Europe. It also clinched a deal with its final major label Warner in August.