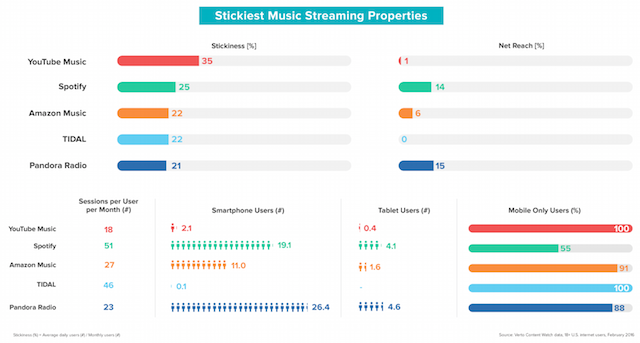 The latest outfit to take a data dive into the numbers behind streaming services is Verto Industries. Its streaming music index showed some unusual numbers, putting Apple Music on the top of the heap with 40.7 monthly unique users. Verto ranked Pandora second with 32.6 million monthly uniques, followed by Spotify with 30.4 million monthly uniques. Verto's results certainly seem to point toward a shocking takeaway with Apple Music beating out veterans Pandora and Spotify. However, there are a few important caveats to these results.
First, Verto's measurement methodology asks participants to install a special app on their devices that will track their individual behaviors. Some participants may be compensated for their data. This methodology means that Verto's data may not be an accurate reflection of the full listener base.
It also tracks sessions per user, per month as a metric for engagement. When Apple Music offers a three-month free trial, there's likely a larger share of people who are just testing out the app during the period covered by Verto's data than there would be for the other streaming platforms, which have just 30-day free trials. Apple Music is also automatically installed in every Apple mobile device, so could have app engagements from people who don't use the streaming service at all.
Finally, Apple Music's result here is also perplexing because, by that company's own disclosure, it only had 20 million subscribers at the end of 2016. On the flip side, Spotify reported 50 million subscribers this month, making Verto's finding of 30.4 million uniques look odd next to Apple Music's result.
One aspect to Verto's research that is intriguing is its assessment of stickiness. This metric compares daily and monthly user numbers. It pegged Apple Music with 19% stickiness, then Pandora at 21% and Spotify at 25%. Verto found that the top performer for stickiness was YouTube Music at 35%. By its analysis, the platforms with smaller audiences had higher sticking rates. While the rates might be based on a shaky foundation of data, the concept of continued use and interest in a streaming service is a critical factor in determining success.