The British Phonographic Industry released half-year data about music sales in the UK. The report showed that there have been 11.5 billion tracks played in the first six months of 2015, compared with 14.8 billion plays in all of 2014. Dedicated audio streaming services see about 480 million streams a week. Stream Equivalent Album consumption for the first half was 11.49 million, up 79.5% from the year-ago period. This SEA metric is the total number of streams divided by 1,000; in this equivalency, 1,000 streams is seen as equal to one album purchase.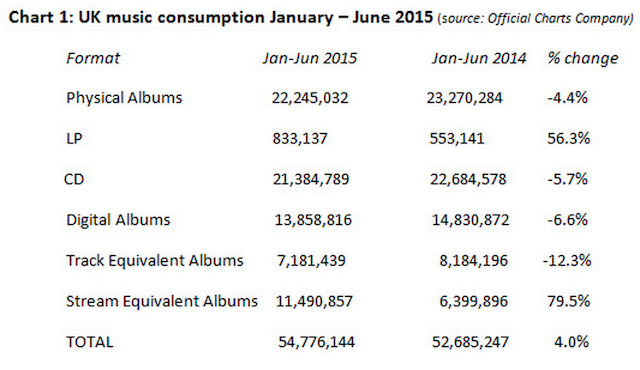 BPI breaks out streaming video plays separately, and that medium also experienced significant growth. Video streams in the first half of 2015 totaled 12.5 billion, up 98.2% from the 6.3 billion streams in the year-ago period.
Sales of physical formats did drop for 2015, but at a slower rate than in previous years. The first half of this year showed a 4.4% drop in sales, compared with a 10.4% decline in 2014. The bright spot here was in vinyl, which saw a 56.3% in demand. Vinyl sales could near 2 million by the end of the year if the current rate of growth continues.
These results mimicked those found for the U.S. market in Nielsen's mid-year report, where on-demand streaming increased 92% from the year-ago period.