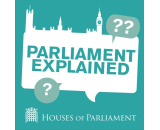 The UK Parliament has launched a podcast series to explain how it works, RAIN News learned from Neil Cowling, Creative Development Director of RadioWorks and speaker at the last two RAIN Summit Europe conferences. The show is called Parliament Explained. RadioWorks, which is producing the six-episode podcast series, is an independent radio advertising agency.
The just-launched series is hosted by writer and comedian Meera Syal, who examines the parliamentary body with a determination not to leave anyone behind — a sort of audio Parliament For Dummies. She talks with staff members from the House of Lords and House of Commons, as well as committee chairs.
This venture is an example of branded podcasting, in which a business — or, in this case, government institution — produces audio programs to extend its brand and further its identity. We've seen U.S.-based examples such as GE's The Message, a scripted fiction series. Parliament Explained is the most striking example of branded podcasting we've seen from across the pond.
"Branded podcasts are growing very rapidly in the UK, and Fresh Air Production, part of the Radioworks Group, is one of the companies leading the way in helping organisations to make the most of audio content," Neil Cowling told us. "Podcasting is a medium that more and more brands are using to tell engaging long-form stories, and land strategic messages that can't be communicated through standard advertising. We're hugely proud to be working with The Houses of Parliament, and it's a testament to the growth and quality of the medium that such a supposedly stuffy institution is commissioning their own podcast series."
Episodes drop on Monday, with the first posted alongside a series trailer: