It's a double dose of updates from Spotify today. First, the streaming platform introduced a feature dubbed Spotify In Residence. With these profiles, Spotify lets different artists take a spin at curating a special playlist in the style of a radio show. The current participants are Steve Jones (formerly of the Sex Pistols), Big Narstie, Tonga, and Jungle. These guest curators create playlists of music and talking tracks. Music Ally noted that since the spoken segments are uploaded as tracks, the performers could be getting royalties from them.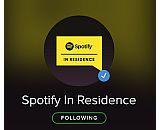 The feature is still fresh enough that there are still some questions about it. For now, it seems that the curators may be updating the lists monthly, but there have been no details about how frequently the artists will rotate in and out of residency. The playlists appear to be a rough counterpart to Apple Music's Beats 1 radio project, which also relies heavily on artist involvement. It's unclear whether the less frequent and less round-the-clock programming of Spotify In Residence will catch listeners' imaginations as the innovative Beats 1 did, but we'll be watching.
The second Spotify news comes from France. A French publication reported that Spotify now has about 650,000 paying subscribers in that nation. That figure has risen 270% over the past year thanks to the streaming service's partnership with Bouygues Telecom. Homegrown streaming service Deezer is still in the lead with 1.5 million subscribers.