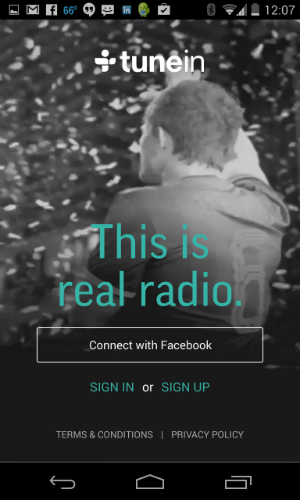 In a significant redesign of its platform, audio network TuneIn today relaunched its mobile apps and browser experience, and disclosed audience and content statistics.
On the second point, TuneIn announced that it has over 50-million "active users," (usually meant as using the service at least once a month). The platform aggregates 100,000 radio station streams and four-million podcasts, according to today's press release. These sweeping numbers give TuneIn the claim of "world's largest audio network."
The new user experience presents a dramatic redesign and re-naming of existing functions, and some new features. We wouldn't blame some long-time users for breathing a sigh of relief while murmuring "Finally!" under their breath, but the new apps are worth waiting for in our opinion.
We tested the new TuneIn experience in an Android phone, an iPod touch (identical to iPhone), and a 10-inch iPad. We found admirable consistency across the devices — and the new web-browser experience also looks the same, although we did not test it in detail.
TuneIn's new app tagline is "This is real radio." That's an interesting slogan with overtones. It intersects a 15-year-old argument about whether streaming audio should ever be called "radio." TuneIn legitimizes the claim by streaming 100,000 terrestrial stations. At the same time, there is a confident subtext of "You've got the real deal in your hands."
Diving into the new apps, you can still browse and explore TuneIn content in much the same way as in previous versions, and bookmark stations or shows you want to find later. The previously-named Favorites collection is now "My Profile," and is hooked into a thorough update of the app's social tools. Which is to say, TuneIn now has social and sharing functions. Sharing content with friends (imported from Facebook or Twitter) is accomplished with a new feature called Echo.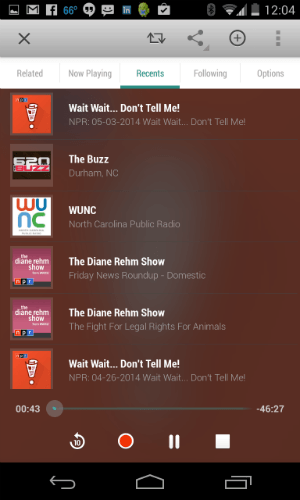 Content creators have their own version of "My Profile," allowing direct connection to listeners and fans.
We found that only the Pro version of TuneIn was available in the iOS and Android app stores, and it was free of charge. In the past, Pro was a paid version of TuneIn, enabling buyers to record shows to their devices for offline listening.
Update: TuneIn told RAIN that the Pro app was temporarily free, but would revert to a paid app (not a subscription). That change happened after some hours. As of now, the free app is available in iOS and Android app stores, and we see the Pro app as a separate, paid download. Anyone who leaped on the Pro app while it was free will continue to use Pro enhancements.
In the Pro version, we hope for an enhancement of the Record feature, enabling scheduled recordings, DVR-style. The current Record function is one-episode-at-a-time only.
As expected in a new product embodying such a thorough re-conception of a user experience, some apparent bugs need to be squashed (or, more humanely, caught and gently removed). We could not fully activate the social features without making a connection to Facebook contacts, even though we were logged in via Facebook. The app told us to accomplish that in Settings, but we could not find the switch.
A new component called Car Mode invites users to search for artist/song content, and start playing it, with voice activation. We tested this in Android, using Google's robotic assistant (similar to Apple's Siri). In a quiet office, it failed to recognize clearly articulated requests for Ella Fitzgerald, Katy Perry, and "Thriller." It recognized Sting, but delivered Huey Lewis and the News  — in this regard, the feature aspires to be like Radio Search Engine, but without that service's uncanny ability to quickly locate music playing on a radio station and immediately tune in.
Car Mode has other features as well, notably a simplified, big-button screen for easy in-car navigation. We expect this component of TuneIn to develop, even as connected car entertainment evolves generally.
All in all, the new TuneIn experience lives up to its billing as a whopping improvement and repositioning of the brand. We look forward to many hours of greatly enhanced use.