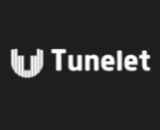 Tuned Global has partnered with Tunelet to help the startup launch of a new music service in Africa. Tuned Global provides music streaming solutions with consumer engagement and its past clients include Samsung Mobile, Coca-Cola, and Line Music. In this deal, Tuned Global will provide technical capabilities for the back- and front-ends, licensing consultation, content delivery, reporting, user acquisition strategy, and engagement strategy.
Tunelet aims to create a music streaming platform with free and subscription access. Its other revenue stream will be brand integrations, with companies able to stream licensed music through Tunelet for a monthly fee. It will first launch its streaming music service in Nigeria.
"Tunelet and Tuned Global share a common philosophy in driving customer engagement through the power of music," said Amatare Oki, Tunelet's global director of strategy and business development. "The choice of Tuned Global was a no brainer as its cutting edge and innovative technology has its footprints in similar emerging markets across the globe, where it has continued to support brands like Tunelet with digital engagement solutions offered through its ready-to-go and all-in-one music platform."
"By offering turnkey solutions, we are able to help companies like Tunelet grow rapidly by allowing them to invest time and money into marketing and growing a great local product, rather than building the technology and applications from scratch", Tuned Global Managing Director Con Raso said.