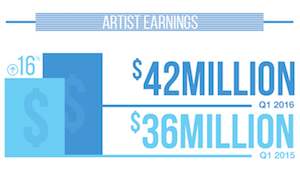 TuneCore announced that its artists earned $42 million in Q1 2016, a 16% increase from the year-ago period. Streaming platforms posted steady growth in earnings, including a 50% increase from Spotify, 57% from Rhapsody, and 34% from Deezer. Tidal delivered a whopping 167% growth, while YouTube brought 126% gross revenue growth for the period.
That brings total earnings for the company's artists to $689 million, and it includes 31.1 billion streams and downloads. Last year alone, TuneCore artists earned $142 million.
TuneCore has also had a big year on the international stage. Africa and South America are its fastest-growing territories, at 59% and 21% increases, respectively.