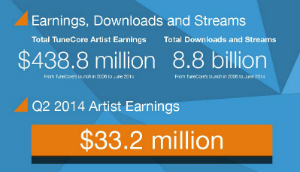 TuneCore, a leading digital agency that helps musicians distribute their recorded work to digital outlets, announced that its second-quarter revenue distribution totaled over $33-million dollars, an 18% increase over the same period last year.
TuneCore also administers rights for songwriters through its Music Publishing Administering division. the press release did not break out dollar distributions for that part of the business, but noted a 300% increase over Q2 last year.
During its seven-year business life, TuneCore has distributed nearly a half-billion dollars ($439-million) to "TuneCore Artists." TuneCore clients pay an annual fee, and receive 100 percent of revenue splits from iTunes, Amazon, Spotify, and innumerable other music platforms.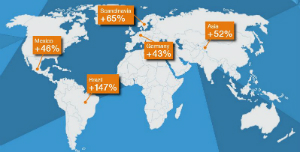 TuneCore attributes some of the dramatic musician revenue growth to emerging non-U.S. markets and digital outlets, both for downloads and streaming.
RAIN spoke to Scott Ackerman, TuneCore CEO, to dig deeper into the growth trend, particularly on the music-streaming side. First, we wanted to get a sense of the revenue split between downloads and streaming. tunecore does not break out that metric publicly, but Ackerman did note a trend.
"There certainly is a shift," Scott Ackerman told us. "More and more money is coming from streaming. Downloads are still the majority part of earnings, but is remaining flat as streaming reveneue is increasing month-over-month. If the trend continues, there will come a point when streaming will be equal or will surpass download revenue."
We brought up highly publicized artist complaints with streaming, as an emerging mainstream way to consume music that has disrupted download sales, and asked Ackerman what TuneCore clients tell him.
"Some artists are skeptical, but we have many artists embrace the streaming model and are doing quite well with it. We get a mixed bag of comments. Most of our artists tell us that the number-one reason they come to TuneCore is not making money, though it's important to them, but because they want to be heard worldwide."
"We have a successful artist named Ron Pope. He's doing particularly well on the streaming side. He has an interesting view — in his mind, a potential fan can listen to eight hours of his catalog [in an on-demand streaming service] for one [subscription] price, then buy tracks if they want. So he regards streaming as a great outlet for music discovery."
Ackerman told us that the range of digital outlets is continually expanding worldwide, and TuneCore strives to open them up to artists.
"We're contantly adding new stores. We just launched KKBOX, which is like the Spotify of Asia. Now our artists can get their music heard in the Phillipines, Singapore, and other parts of Southeast Asia."
Finally, we wanted Scott Ackerman's long-term speculation about the extent to which streaming can scale. Will the access model reach a point of mainstream adoption, with plentiful mobile bandwidth, when buying music will be an anachronism that nobody does?
"My answer is speculative," Ackerman replied. "I'm still a believer that downloads will be important to a certain population. While sales are decreasing, it's still a market, and vinyl is starting to take off. Streaming will become a bigger part of the pie, but whether it takes over completely remains to be seen."
In the meantime, it's all good for TuneCore. "We're exited and proud about how things are going for the artist."