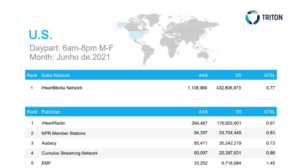 Triton Digital has released its consolidated Streaming Rankers for June, covering the U.S., LATAM (Latin America), EMEA (Europe, Middle East, Africa), and the Global report. The Rankers measure the average number of active sessions (AAS), session starts (SS), and average time spent listening (ATSL) for the top 20 entities in each region. Consolidating the reports into one file (HERE it is, free download) makes it easy to compare regions, and also see those entities whose metrics place them in the top 20 of different regions.
The Triton rankers measure clients of  Triton's Webcast Metrics measurement system. Participants are mostly radio groups; the only pureplay internet streamer in the U.S. list currently is AccuRadio.
The top five global entities, based on AAS, are iHeartRadio, Prisa Radio, Talpa Radio, NPR Member Stations, and Audacy.
In the U.S. ranker, iHeartRadio is atop the list, followed by NPR Member Stations, Audacy, Cumulus Streaming Network, and EMF.
.