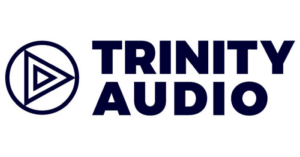 What is a live ad read? In a general sense, it is delivery of ad copy by the program host. What if the program host is an AI voice?
That is the framework for Trinity Audio's new AI-powered audio advertising experience. Tel-Aviv-based Trinity provides AI voicing of article text content. A certain naturalness of the company's tech-driven performance of text is a Trinity calling card. If we think of that performance as playing a hosting roll in the delivery of audio content, it's feasible to extend the AI performance to ad content within the text.
"The offering provides ease of consumption of content while seamlessly integrating ads powered by audio. The user journey leverages the same AI voice for both the content and the advertising message, similar to podcasting where the podcaster is also reading the advertising sponsorship of its podcast," Trinity says, using the live-read example in podcasting to describe the new feature.
The comparison might not be perfect — podcast advertisers value host-read copy for its non-literalness (podcasters often riff on talking points) and also for a kind of emotional trust that listeners give to podcasters which is much valued by advertisers. The resulting originality (riffing) and human relationship value (personality) is probably missing in Trinity's solution, but the feature does accomplish a continuity of experience. If a listener accepts the AI voice in editorial copy, the listener will probably accept the same voice as (ironically) more natural and unobtrusive than inserting a human-read voice.
Here is how Trinity pitches it: "Trinity Audio is the only unified audio platform that advances the ability for owners of content to evolve to deliver high-value smart audio experiences, that innately reconnect consumers of content with the 'oral culture' humans have relied upon for thousands of years."
Publishing company McClatchy, which operates in 30 markets and reaches 65-million monthly readers, is the launch partner. So, potentially, 65-million people will start hearing the ads on the page … along with the articles.
"We look forward to continuing to work with Trinity Audio to enhance our native advertising offering," said Rachel Malpeli, Director of Digital Solutions, McClatchy. "The audio quality provides a flawless integration for brands, which enables ads to be presented in a non-invasive manner."
"For the first time advertisers can convert their print content with AI-powered ads," said Ron Jaworski, CEO of Trinity Audio. "As media companies double down on audio strategies, we're excited to pioneer this effort and help clients combine audio content with targeted advertising. This represents another major step forward in the audio world and provides a new opportunity for publishers to integrate the messages they want to convey to users as they listen to content. We've eagerly anticipated what an immersive audio experience could do for our organization; it took Trinity Audio's AI technology to deliver on the opportunity."
.