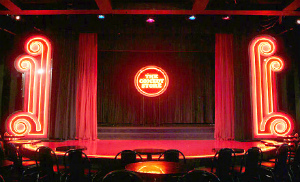 Music services are obviously about music. But they have comedy albums in their catalogs, too. Pandora began including comedy tracks in its library four years ago. On-demand services like Spotify and Rhapsody integrate comedy tracks into their celestial jukeboxes in pretty much the same way that music is treated — you can access individual comedians, live comedy albums, curated comedy "stations," and playlists assembled by other users.
Can a music service deliver good comedy programming? That's what we intended to find out. We turned off the tunes and hunted for laughs in major music services to see how well the genre was represented and serviced.
(During this review we used accounts with no comedy-preference histories, and we avoided voting on tracks [e.g. thumbs-up and thumbs-down], saving tracks, "liking" them, or taking any action that would skew the choice of content provided by the service.)
First, the summary
Comedy is bundled into record catalogs that are mostly music. As such, comedy albums and tracks are treated like music tracks, but with less success in most cases. Each service emphasizes comedy differently — or doesn't market it at all.
We discovered that the algorithms which generate music selections are not as capable with comedy selections. There are built-in challenges. For one, the comedy catalog is much smaller than the music catalog, so variety is problematic — though a more serious problem on some platforms than on others. Another challenge is lack of standardized genres in comedy, which is the first categorization scheme when delivering music to a new user who has not yet established personal preferences.
The result, we found, is too much repetition, not only of comics but even tracks. Of course, music relies on hits, too, so many platforms seem to reason that A-list comedy stars with the broadest reach (e.g. Jerry Seinfeld and Jim Gaffigan) are a good bets to throw into the mix … over and over. We found iTunes Radio suffered most from the repetition problem.
On the other end of the spectrum, we found an excellent, addictive comedy stream using the artist-station settings in iHeartRadio (see below).
Best results come from deep digging, naturally enough, and the most rewarding services are the ones that curate special comedy playlists. Pandora, Slacker, and Accuradio gave us the most surprising laughs. (NOTE: Accuradio was founded by Kurt Hanson, founding editor of RAIN News.)
Users take matters in their own hands, building out their favorite LOL tracks into shared playlists. Some of those lists are magnificent troves of comedy — vast libraries of collected comedians and albums. (We dug out one that was over 500 hours long.) We found some of the best discovery experiences in user playlists, especially in Spotify.
All in all, we found the music services to be interesting, sometimes excellent platforms for listening to album comedy. (Podcast comedy is a separate subject.) The key is getting past the algorithm by finding outstanding comedy curation, and by finding other users who have done (and shared) the hard work already.
iTunes Radio: Play it again … and again, and again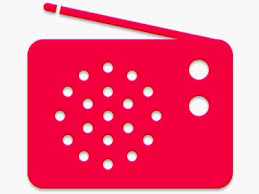 We found the least satisfying, and most perplexing experience in iTunes Radio. The problem was repetition, to such an extent that the service seemed to be actually broken for comedy.
We started by looking for curated lists provided by Apple. We found no comedy in the Featured Stations list, or the genre station list. That led us to create stations seeded with comedians.
NOTE: Through all testing in this article, we compared some of the same comedians when creating stations: Jerry Seinfeld (top of the Forbes list of best-paid comedians in 2013), Bill Cosby (iconic cross-demo, cross-generational performer), and Chris Hardwick (more contemporary). We sometimes created stations seeded by Jim Gaffigan, Kumail Nanjiani, Aziz Ansari, and Patton Oswalt.
As we listened to seeded stations in iTunes Radio, one routine from Gabriel Iglesias was repeatedly slotted as the second track. The platform apparently failed to realize it had played it already, several times. By the end of the the test we had memorized Iglesias's stand-up, and could confidently fill in for him on a gig if needed.
That rampant repetition was not isolated; iTunes Radio fed us multiple plays of certain tracks by Bill Cosby, Brian Regan, Lewis Black, and Jim Gaffigan's renowned "Hot Pockets" recording.
Upshot: With better options easily at hand, we won't return to iTunes Radio for comedy.
Pandora: Depth worth digging into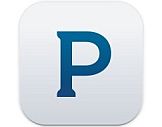 Beware of "explicit and offensive material." Pandora makes sure you know what you're getting into — just in case you think squeaky-clean Seinfeld/Gaffigan-style humor represents the whole genre.
Helpfully, Pandora also curates a "Raw" comedy station for those who want the dirt to fly. It is one of 20 curated comedy stations, a signal that Pandora takes comedy seriously and works hard to serve it intelligently. Those curated stations include Today's Comedy, Urban Comedy, Musicals, Urban Comedy, and a range of decade-sorted recordings.
The in-house stations might be all you need. We found dynamic stations based on one comedian to be adequate, if uninspired. Bill Cosby generated tracks from Jeff Foxworthy, Jerry Seinfeld (who appeared more than any other comedian throughout our testing, all from one 1998 live album), Sinbad, and more Foxworthy.
Our Jerry Seinfeld station dipped into the Jim Gaffigan well too many times.
We tried a Jim Gaffigan station, and got too much Brian Regan, but also appreciated the appearance of Mike Birbiglia.
Just as we began yawning, we booted up a Chris Hardwick station, and enjoyed doses of Steve Rannazzisi, John Roy, Doug Benson, and Dan Cummins.
Upshot: We'll keep the Chris Hardwick station in our permanent Pandora list, and will revisit the curated stations.
Rhapsody: Covering the basics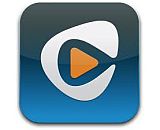 Rhapsody is a favorite service, and we hoped it would get us rolling on the floor.
In the Browse section of the iPad app, Comedy did not appear. Unpromising. But we checked the web browser app, and did find Comedy/Spoken Word. As with other genre categories in Rhapsody, it merely offered a snapshot of top albums and tracks, and broadly covered categories like meditation, songs sung by Star Trek cast members, and even TV-show soundtracks.
That genre's morass was too heavy a slog for us, so we resorted to creating stations based on comedians.
Starting with Bill Cosby, we inexplicably listened to musical numbers by the Coz, Eddie Murphy, and others. In addition to being unfunny, in our humble opinion, the algorithmic programming gambit seemed potentially offputting. It put us off, anyway.
Rather than switch to another comedian, we played with Rhapsody's variety meter, setting it for extreme variation. We heard Adam Sandler, Steve Martin, Rodney Carrington, and Bill Burr. Not exactly fringe comedy, but chuckle-worthy, at least.
Seeding the next station with Jim Gaffigan, we got repeat tracks from Jeff Dunham, Eddie Murphy (singing unfunnily again), the same Bill Burr track we had just heard (less funny the second time). When we set the stream for high variety, we heard all repeated tracks.
The track-repetition problem seriously wrecks dynamically generated comedy streams.
Upshot: We will continue to enjoy Rhapsody music, but won't return for comedy.
Spotify: Ditch the algorithm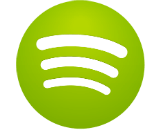 Spotify offers "Editor's Choice Comedy" as a house-curated playlist. We fired it up and heard three straight tracks from Jerry Seinfeld's 1998 album (enough, already), then double and triple plays of Marc Maron, Jim Gaffigan, and others. It's a surprisingly short playlist, featuring a small handful of comedians. Not a strong curation effort.
We started a Jerry Seinfeld station and were surprised to hear Louis C.K., who seems like a contextual mismatch, but a good match of celebrity levels. Likewise the scandalously edgy Daniel Tosh, who would repel many Seinfeld lovers.
A Chris Hardwick station got us interested with a stream of Eugene Mirman, Natasha Leggero, Doug Benson, Wyatt Cenac, Norm MacDonald, and Pete Holmes, some of whom were new to us.
The real gold is mined in user playlists. These often feature deep dives into individual comics, or exhaustive explorations like the 24-hour "Best Stand Up Comedy albums 2013", an assemblage of 976 tracks. Not deep enough? Try Rusty Shackleford's "Stand up comedy" — 501 hours of over 14,000 stand-up bits. Scrolling down that one user-created Spotify lists is arguably the best discovery experience we had during this testing. We heard live performances by Craig Ferguson, Bobcat Goldthwait, and Richard Belzer that we had never encountered.
Upshot: We'll spend more Spotify time creating stations with little-known comics, and investigating user playlists.
Rdio: No special treatment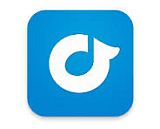 We did not find much comedy emphasis in Rdio. There is no comedy genre or channel (in the iPad app we mostly used for testing).
We tried creating a Bill Cosby station, and heard Chris Rock, Lisa Lampanelli, Billy Connolly, Mitch Hedberg, Denis Leary, and Todd Barry.
Going more contemporary, we spun out a Chris Hardwick station and immediately heard a Mitch Hedberg repeat, Lisa Lampanelli, Christian Finnegan, Andrew Daly, T.J. Miller, and Pete Holmes.
Upshot: We didn't like hearing a repeated track, but we heard new material in stations driven by contemporary comedians.
iHeart Radio: Hidden gems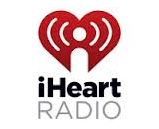 We are often impressed with algorithmic music selections in iHeart Radio, and wanted to try comic-seeded playlists. We encountered the dreaded repetition problem twice, both in a Jerry Seinfeld station.
When seeding with broad comedians like Seinfeld and Bill Cosby, we heard too much reliance on varsity comics, especially Jim Gaffigan. But changing the tuning meter to less familiar selections served us well.
In fact, setting up a Chris Hardwick station with the Less Familiar setting was a spectacular win. We became absorbed in a well-selected stream that included several routines we had never heard from Doug Benson, Christian Finnegan, Greg Behrendt, Kyle Cease, Brian Posehn, and Craig Shoemaker
Upshot: Encouraged by its range and adventurousness, we are eager for a return trip to iHeart, where we'll experiment with contemporary comics using the Less Familiar setting. 
AccuRadio: The path less traveled

AccuRadio offers six stations in its Comedy channel: Comedy, three decade channels, Comedic Musicals, and He Plays Blue (uncensored comedy).
We liked AccuRadio's Comedy station better than any of the basic-comedy stations in other services. It showed a broad reach across decades, and mixed immortal classics ("The 2,000-year-old Man" by Carl Reiner and Mel Brooks) with standards (Jim Gaffigan) and comedy acts that didn't appear anywhere else for us (Kathy Griffin, Rodney Dangerfield, Monty Python, Harvard Lampoon, Julia Sweeney). We got a sense of deep knowledge underlying this station, and immense range.
Upshot: We'll come back to AccuRadio for more new discoveries and fond memories.
Slacker: Laying it out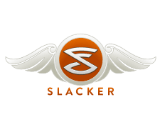 Slacker Radio has a beautiful comedy experience.
The platform makes content evaluation easy by listing the comedians on each of its five preset comedy stations. Those stations are: Today's Comedy (explicit), Comedy (explicit), Comedy Top 33, Comedy, and South Beach Comedy Festival. Before hearing a single setup line, you can browse the comedian list and decide whether to launch the stream.
Comedy Top 33 is a most-popular list of recorded stand-up, determined by Slacker's play data. It that way it is data-generated, and hosted with announcements before each track.
We also sampled Today's Comedy, which features Aisha Tyler, Bob Marley, Todd Barry, Brian Posehn, Jim Gaffigan, Steve Rannazzisi, Adam Cayton-Holland, D.L. Hughley — it's a good list with reasonable reach toward the fringe, and is one of the best curated comedy streams we found.
In our artist-seeded stations, we enjoyed repeat-free listening, without any exceptional streaming to note.
Upshot: We like the curated packages best, and that's where we'll return in Slacker.