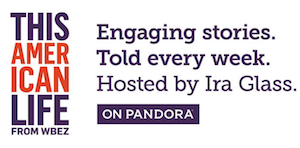 Indiana's WBAA public radio station will keep This American Life on its programming roster after listener outcry over a previous announcement that the show would be cut. Mike Savage, the general manager, posted last week that the station planned to remove the show after it inked a distribution deal with Pandora, which has a paid subscription option. Savage called This American Life's dedication to the public radio mission into question and sparked a lengthy debate with show producer Ira Glass.
"We do not take programming changes lightly and only do so after undertaking due diligence relative to listenership surveys and member feedback," a note on the WBAA station now reads. "After considerable listener feedback, This American Life will remain on WBAA."
Savage's original post sparked ire from Indiana listeners, some of whom said they would withhold donations if the show was removed from the schedule. Neither Savage nor Glass have offered any further comment on the change of heart. The odd interlude highlighted the continued fear and skepticism that so many in terrestrial radio still have toward digital channels. Savage's post also didn't appear to acknowledge that This American Life is available on Pandora without a paid subscription.