One key takeaway from the drop of Westwood One's annual Podcast Download report, released last Friday, is that "heavy" podcast listeners (6+ hours per week) are increasing. According to the report, 24% of American listeners hear at least one hour of podcast content per week, and 9% are in the "heavy" category.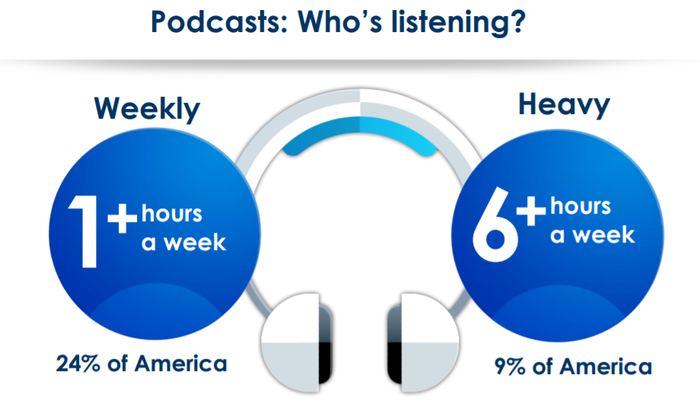 The study, for which Westwood One commissioned MARU/Matchbox, surveyed 943 people, all adults over the age of 18, in July and August.
Newcomers and Pioneers
In an interesting breakdown, the study breaks out when respondents started listening to podcasts. "Newcomers" started within six months of being surveyed. A slightly more veteran group started 7-12 months before, and yet a more vintage group started 2-3 years ago. Listeners who adopted podcasting four or more years ago are called "Podcast Pioneers."
These categories, plus distribution platform (Apple iOS or Google Android) are piled into a matrix which Westwood One calls the weekly podcast  listener profile: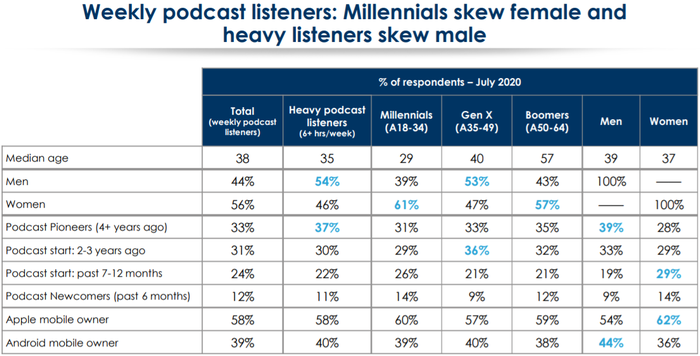 Note that a plurality of "heavy" podcast listeners (6+ hours per week) fall in the Podcast Pioneers group — newcomers diving deep seems like a positive insight.
Where People Listen
This study paints a neck-and-neck competitive positioning of major podcast listening platforms. Unlike other assessments which put Apple clearly in the lead (by technical measurement, not surveying), Westwood One determines that YouTube, Apple Podcasts, and Spotify are clustered between 33% and 38% of the total survey group. Google podcasts is added to those top three among "heavy" podcast listeners (6+ hours per week). Also interesting: All of the respondents use two or three apps. Last year, YouTube was the #2 destination for podcast listening; this year it is #1.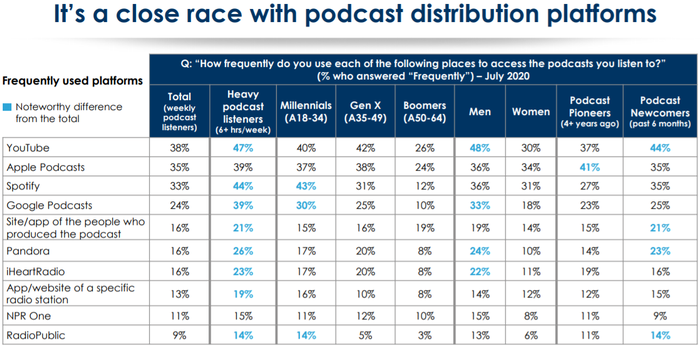 Pandemic Proof
Westwood One doubles down on a point it made a couple of weeks ago as a preview to this study: Podcasting is "pandemic proof." The basis of pandemic proofiness is 93% of listeners stating that they listen the same amount or more since the start of the coronavirus pandemic.
The Ads
Also included in this report are study results from Advertiser Perceptions, which we covered HERE. The main takeaway is that advertiser interest in podcasting is growing, with nearly half (46% ) of respondents saying they would consider a campaign in the next six months.
What do listeners think of podcast commercials? "Historically, advertising has been treated as a negative entity among most media users […] On the other hand, podcast listeners appear to be very accepting of advertising in the space." the study documents that 84% of "heavy" podcast listeners have "taken an action" after hearing a podcast ad. And the longer the podcast show duration, this study found, the more accepting listeners are of ads.
There is much more granularity in this 65-page report, nearly every page of which is a chart. GET IT HERE. It's free.
Main Points
Here are the official Key Findings as a kind of executive summary:
Podcast listening is pandemic proof. Since COVID-19 over 90% of weekly podcast listeners
reported spending about the same or more time with podcasts. Podcast Newcomers (those
who started listening to podcasts in the past 6 months) are more likely to say they have been
spending more time listening to podcasts since COVID-19.
The amount of weekly podcast listeners who are becoming heavy podcast listeners (listen to 6
our more hours in the past week) is on the rise. This is growing the fastest among women,
Millennials 18-34, and newer podcast listeners.
Podcast Newcomers, the newest listeners in the podcast space, skew younger and female.
Women are catching up to men in podcast listening. Since July 2017, female average weekly
time spent, the average number of podcast episodes listened to, and downloaded are all up.
The top reasons weekly podcast listeners tune in to podcasts are to be entertained and to learn.
Content is key among weekly podcast listeners. If their favorite podcasts offered exclusive
benefits, they would be most willing to pay a fee for bonus and extended episodes.
Spotify and YouTube are closing in on Apple Podcasts' dominant share in the podcast
distribution platform space.
Ad tolerance among weekly podcast listeners is gradually growing
---