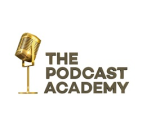 In a kickoff webinar, The Podcast Academy publicly articulated its structure, goals, and membership details for the first time. The online event was hosted by Executive Director Michele Cobb (Forte Business Consulting) and Chairperson Rob Greenlee (Libsyn). After a brief introduction, most of the session was devoted to Q&A with attendees.
We learned that membership will open next Monday (June 22). Earlybird cost of membership is $50. A potential speed bump for indie creators, especially those just starting out, is the requirement of two letters of recommendation. The charter membership period ends at October 1, when the membership dues increase to $100.
Incoming members must classify themselves as "behind the mic" (podcast host) or "in front of the mic" (producing, post-production).
There has been speculation of what The Podcast Academy is all about, beyond a planned awards program which was divulged when the Academy was founded several months ago. That plan is not filled out more at this time, but is still on the slate. Questions about details of the awards (how would voting work; whether the awards would be sponsored) were answered uncertainty.
As to the organization's mission, another subject of questioning in the webinar, Rob Greenlee emphasized that the board wants feedback from members "on what the priorities are." That's a little fuzzy, and shifts the question from governance to membership. But Greenlee also posted a statement in today's edition of Podnews which includes this clarifying statement:
"The areas of focus will be in rewarding excellence, diversity, best practices, and education to foster the sharing of ideas and tactics to grow the overall audience, content, and business of podcasting." That's a clear articulation, and we wish it were more top-of-messaging in the webinars and website.
Interestingly, Rob Greenlee compared The Podcast Academy's goal with the Academy Awards — a trade organization whose membership votes on globally influential awards. We think that is a lofty and terrific goal which aspires to build podcasting to universal recognition as an artistic medium.