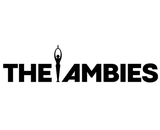 The Podcast Academy's second annual "The Ambies" award ceremony is scheduled for March 22 as an online presentation only. The livestream will be on Twitch exclusively.
Today, the Academy releases the nominee field — 178 shows and individuals across 25 categories. See the whole thing HERE.
The nomination field is eminently worthy of exploration — it is an outstanding podcast discovery opportunity for digging below the top-podcast lists that concentrate many of the same top 10, 20, or 50 shows into the consciousness of business observers.
Having said that, we observe the appearance of established category crossover hits like Wait, Wait … Don't Tell Me and celebs like Trevor Noah. But those instances of overexposure stand out against a rich discovery field of less known talent and shows.
The illustration below shows nominees for Podcast of the Year.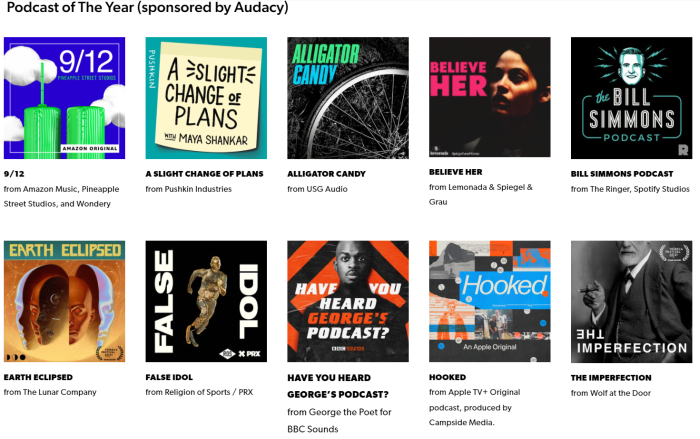 The Academy sent along a list of highlights in connection with this year's Ambies program:
The Washington Post's Post Reports earned four nominations, the most for any podcast, while 9/12 (Amazon Music, Pineapple Street Studios, and Wondery), Believe Her (Lemonada & Spiegel & Grau), Billie Was a Black Woman (Paramount Audio/Spoke Media/Audible Originals), Have You Heard George's Podcast? (George the Poet for BBC Sounds) garnered three nominations each.
The Podcast Academy introduced two new categories: Best Indie Podcast and Best Podcast for Kids.
There was a 34% increase in submissions year-over-year.
57% of Best Podcast Host nominees are women.
Best Performer in Audio Fiction nominees include Parvesh Cheena and Jessica McKenna (Melon's House Party), Marisa Grant (Date With Daddy), David Harbou  (Aftershock), Rosamund Pike (Edith!), Kelly Marie Tran (Passenger List), Rainn Wilson (Radio Rental), and the cast of We Stay Looking (Terri J. Vaughn, Karrueche Tran, Marsai Martin, Kandi Burruss, Amin Joseph, Desi Banks, Kyla Pratt, Jason Weaver, Kev On Stage, Kway, Karlous Miller, Tristen Winger, Max Greenfield).
.