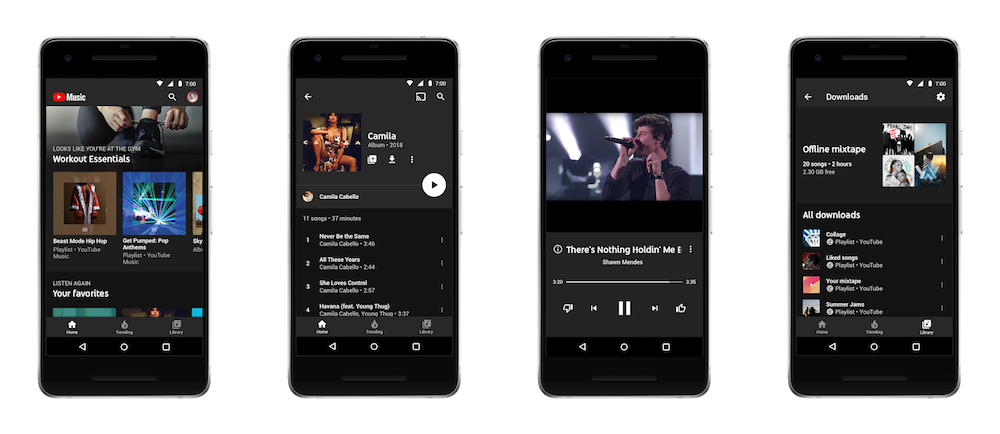 YouTube has announced its new streaming music service, and the platform will launch on May 22. YouTube Music will be a free new app and desktop player with the option for a YouTube Music Premium paid subscription. The move comes with changes across the video platform's other entertainment properties, but it doesn't seem to be entirely what was foreshadowed in the lead-up to today's announcement.
The base YouTube Music will have ad-supported access to all sorts of music content, including official music videos, remixes, covers, and live performances. It will place a focus on powerful search, with the ability to track down songs with lyrics or descriptions, such as "that hipster song with the whistling" to find the chipper "Young Folks" by Peter Bjorn and John. It will also encourage discovery with a personalized home screen that offers recommendations based on past listening, location, and activity. YouTube Music will also have playlists for discovery. The blog post announcing the launch didn't specify whether the playlists would be curated by tastemakers or by algorithms, or how often the programming will be updated.
YouTube Music Premium is an ad-free option of the platform that also includes background listening and downloads for $9.99 per month. Google Play Music subscribers will automatically get access to YouTube Music Premium. Despite rumors to the contrary, Google Play Music will continue to operate as a standalone service with purchased music, uploads, and playlists.
The changes to the YouTube ecosystem are for its previously launched YouTube Red all-in-one subscription. YouTube Red is being re-branded as YouTube Premium, and it will still be the way to access all of the platform's content without ads. YouTube Premium also includes background and offline access for the service and access to YouTube Originals, the collection of in-house series made just for the video platform. Going forward, YouTube Premium will include a YouTube Premium Music subscription and will cost $11.99 a month for new members. Existing subscribers to YouTube Red will continue to be charged at the current rate of $9.99 per month.
The buzz leading up to today's announcement, both from unnamed internal sources and from the company's official music head, has been that the new service would be the solution to getting people to pay for YouTube. It was expected to be the pitch for luring serious listeners away from the established on-demand subscription options. As presented today, YouTube Music and YouTube Music Premium fall far short of the build-up.
The tech giant needed to simplify its music offerings, not complicate them further. YouTube's naming conventions continue to be obtuse and opaque. The connections between YouTube and Google are still hazy to the average user, and are more likely to split the potential audience rather than unite it. And the features as listed today don't seem to offer enough incentive to switch away from Spotify or Apple Music or to upgrade from the free YouTube product that has been dubbed good enough by billions of people. If this is the best it has, turning viewers into subscribers will probably continue to be an uphill battle for YouTube.