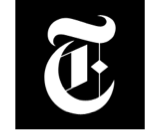 The New York Times announced five new hires to join its audio team. These additions show the publication's commitment to its audio strategy, which has been paying off with accolades and popularity for its shows such as The Daily and Caliphate.
Lisa Chow is the new senior editor for The Daily. Podcast fans may recognize Chow from her most recent role as host of Gimlet Media's StartUp show, and before that she was a senior editor at FiveThirtyEight and an economics reporter for Planet Money and WNYC.
Three of the other hires are also joining The Daily team. Marc Georges, whose most recent credit is the third season of First Day Back, will be an editor for the daily news show. Adizah Eghan will be a news producer; she joins from Snap Judgment and is a winner of Third Coast's documentary award. Eric Krupke is also a new news producer for The Daily; he most recently he was hosting, producing, and editing The Financial Times' daily news podcast.
The final hire is actually a return. Kelly Prime, who previously worked on The EP collaboration with NYT Audio, is back with the publisher after her stint producing Radiolab spinoff More Perfect. Her new title is narrative producer.
The last NYT Audio announcement is that Julia Simon is officially assuming the title of the team's deputy director. She stepped in for Samantha Henig during Henig's maternity leave and will now be a permanent team member. Simon will focus on audience strategy and operations in this post.