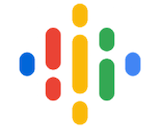 Google Podcasts are getting episode search results. Zack Reneau-Wedeen, Google Podcasts' founder and head of product, announced the development during his keynote interview session at the RAIN Podcast Business Summit in New York.
This feature will allow listeners to find specific episodes of a show, usually by analyzing the automatically generated podcast transcripts for the search terms. Results will be supported in all languages, and Reneau-Wedeen clarified on Twitter that the transcripts would play a varying role in fulfilling the queries, "depending on what generates highest quality results."
The episode search results are rolling out to Google Podcasts gradually over the course of the week.