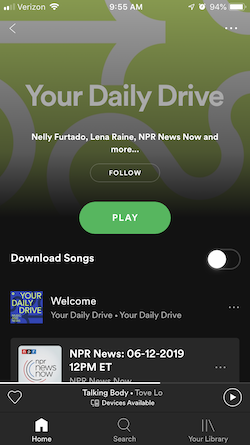 Spotify's newest personalized playlist aims to make life more enjoyable for commuters with a healthy helping of inspiration from radio. The new playlist is Your Daily Drive, and it blends tailored music with podcast programming and news. At launch, Your Daily Drive content will include short-form podcast news updates from the Wall Street Journal, NPR, and PRI. The playlist will be updated throughout the day to keep both the talk and music content relevant.
A quick skim of the playlist generated for me this morning yielded short bulletins of podcast content from the three publishers mentioned in Spotify's announcement, as well as the entire latest episode of The Daily from the New York Times, totaling four news/talk segments in the whole playlist. I appreciate the mix of news round-ups with deep dives, although one half-hour long episode seems like a beefy chunk of time for a playlist designed for quick updates. Personally, I prefer the NPR One approach, where the audio snippets tackle more complicated or niche subjects but still in less than 5 minutes per segment, but your milage may vary.
The music selections drew heavily on songs from the playlists I've created, with a handful of songs that I had recently played and a few unknown algorithm-recommended tracks. This may be a situation where additional information and listening data will yield a better experience over time. This first iteration has many music styles represented, and I may not be a commuter, but I don't think I'd normally be inclined to leap from a moody synth-driven video game soundtrack to Dua Lipa, or from an old-school dance track by Basement Jaxx to the pop crooning of the Goo Goo Dolls. I'll be curious to see if the algorithms try to shift toward a more consistent sound, just as my morning radio station of choice would likely have a clearer theme.