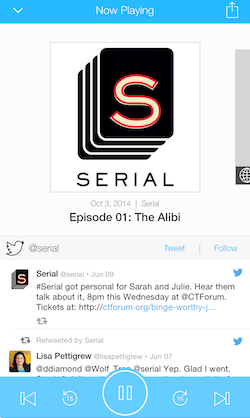 With the big boom in podcast popularity, a few new upstarts have emerged to offer related services to listeners. One of the newer platforms is Jabbercast, a mobile iOS app for podcasts that explores new options in building community.
In its core features, Jabbercast is pretty comparable to Apple's Podcasts app. Both have lists of top charts for a few different genres. Both display your collection of shows. Podcasts has more powerful discovery options, but Jabbercast stands out for how it gives listeners opportunities to get more directly involved with the programming they enjoy.
That happens with what Jabbercast dubs enhanced shows. These have integrations with social media and crowdfunding tools from within the app. Episode pages for enhanced programs include the latest tweets from the show's account, along with buttons to quickly tweet at or follow that handle. Enhanced shows may also opt to put a donations tab on their episodes. Contributions can be made by Apple Pay or credit card and for any amount the listener chooses.
Just as the name implies, these enhancements give listeners more direct interaction with the shows they care about. Giving show creators these tools to cultivate a strong listener fandom might open up more opportunities for podcasts to become viral sensations as Serial did.