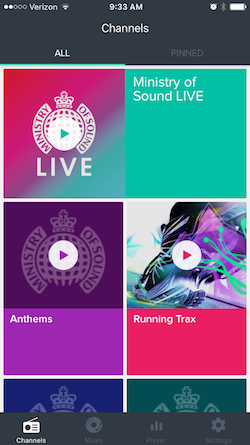 There have been some rumblings about the streaming industry potentially breaking itself into niche, genre-based offerings. We've seen several EDM platforms take off, and today another electonic-centered company has entered the field. Ministry of Sound, a house and dance specialist based in the UK, launched a free streaming app. Ministry of Sound Live offers round-the-clock lean-back programming.
A service like this is meant for the aficionado. There is nothing casual about Ministry of Sound Live and while I do very much enjoy house music, I am far from an expert. That said, the programming appears to go beyond what you'll find on the company's label and gives listeners a great view into the scope of the house genre. The highlight is probably the central Ministry of Sound Live channel, but I particularly enjoyed the more downtempo Chilled station and heard some great remixes on the I Love House station. It was also a pleasant surprise to find a really good hip-hop channel and a station for old school R&B, both of which are outside the usual scope for Ministry of Sound. I mean, how often to you hear Afrika Bambaataa on the radio any more? Plus they play the explicit versions, a plus for those who were irked by Apple Music's squeaky clean cuts.
The app also will tie in with the company's club shows, thanks to the Live From The Club show on Friday and Saturday nights. Those times will see livestreamed sets from the DJs spinning at Ministry of Sound's London hotspot.
As with so many brand new app launches, there are some technical glitches. The song info sometimes takes awhile to display, and the program crashed on me multiple times. In nearly an hour of testing the app, I tried to listen to the mixes by Above and Beyond and by Arielle Free, but nothing would play and both times the app promptly shut down. Those mixes, curated by top genre talent, are probably another big sell for Ministry of Sound Live. Assuming other people actually get to hear them.
For the average listener, the app might be worth a peek, but you likely won't find yourself itching to return. For house and dance music diehards, though, the app is a must; just be patient while the team (hopefully) works out the kinks.