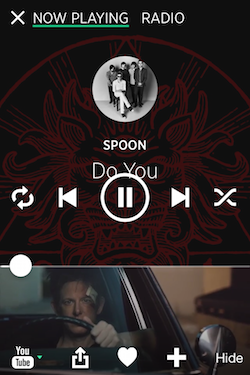 Bop.fm rolled out its first mobile app today for iOS devices. I've been following this company closely of late because its big claim to fame is syncing up multiple music services under one umbrella. For anyone who listens to lots of music styles across many platforms, the idea is certainly appealing. The new mobile program doesn't have quite as many streaming options as the desktop version, but it still links up three popular ones: YouTube, Spotify Premium, and Soundcloud. Once you pick a song to play, either through search or through a curated list, the options for listening on a preferred platform in the bottom left corner.
YouTube sources include the video component, but it seems a little inaccurate in what it pulls for lesser known songs. For instance, Bop played me the song Mirage by Swedish band Kent, but with no official music video for the track, I wound up seeing a low-budget video advertising La Mirage Apartments. And several of the other videos were just still images of an album cover or title. When I intentionally picked a song that I knew had a cool video, the YouTube angle was great, but I found myself mostly listening via Spotify.
When you listen to a track in radio mode, Bop.fm will follow it up with a stream of all the recommended songs based on the choice. Or you can construct your own playlists by tapping the plus symbol at the bottom of the screen while a song plays. Or just tap the heart icon to like it. Or you can share the song to Twitter, Facebook, email, and SMS.
The interface translates well to mobile and the navigation makes sense. I tested it out on an older iPhone model, so streaming on a 3G network meant occasional stutters in service and slow load times between songs. Overall, the app is a good addition to this music streaming hub.