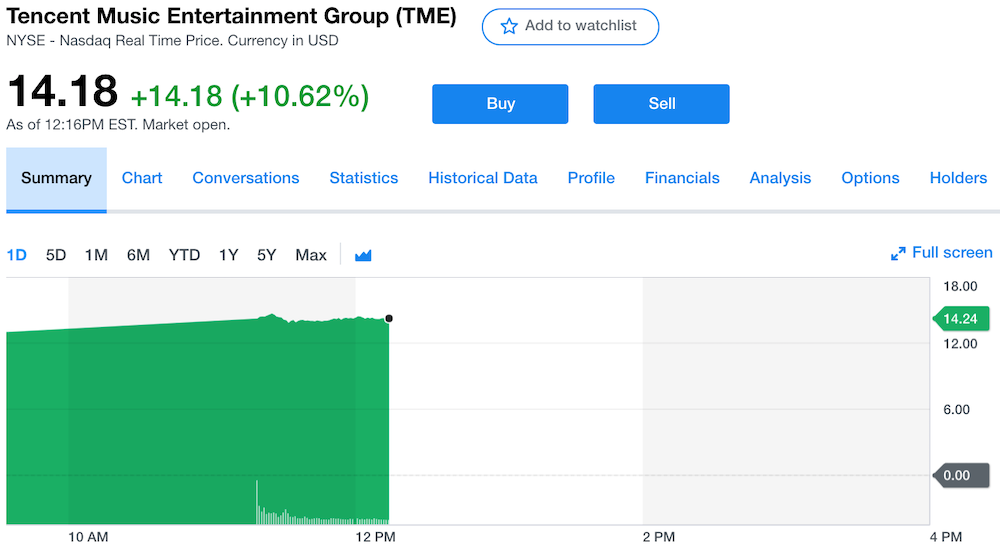 Tencent Music Entertainment has launched its IPO on the New York Stock Exchange, making the long-awaited move to go public just before the year's end. The Chinese music company has priced its shares at $13 a piece for a total of $1.1 billion. Tencent's listing values the business at $21.3 billion. Trading as TME, the prices have already edged upwards during the first few hours of the markets opening.
While this total is still big enough to make the IPO one of the biggest of 2018, Tencent did opt to go with the lower end of its anticipated pricing range of between $13 and $15 per share. The choice to go low may have been another adaptation to ongoing market uncertainties and tensions between the United States and China. It had delayed the IPO from its original planned date in hopes of better market circumstances.
Tencent's IPO has naturally drawn comparisons to Spotify's move to list in the spring. Both companies are leaders in digital and streaming music, and the pair agreed to a mutual exchange of minority stakes late last year. While Tencent has gone for a traditional IPO, Spotify took an unusual direct listing. Tencent Music also has the noteworthy advantage of already being a profitable company.