In the 2022 edition of Techsurvey, an annual consumer survey study performed by Jacobs Media, the title Radio: A Return to "Normal?" refers to post-Covid listening trends, while investigating whether "normal" now includes broader and more enduring changes in audio consumption habits. (Techsurvey polls a population of about 31,000 P1 radio listeners identified in the databases of 474 commercial stations. Responses were weighted using Nielsen 2021 market population data.)
"COVID aside, radio listening even among core fans is tick down, while the audience is aging." –Techsurvey 2022
The top takeaway this year, among many learnings in a 107-page slide presentation, is that AM/FM listening is attenuating ("slowly trending down").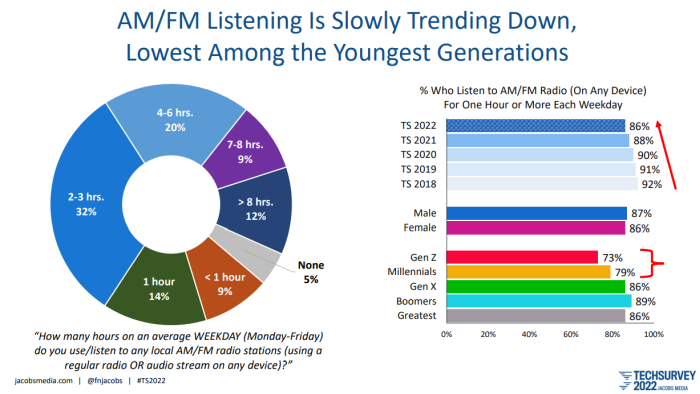 We learn that 81% or respondents have a radio at home — arguably a low number considering the AM/FM-loving audience, and Techsurvey characterizes the number as "only eight in ten."
Still, the cohort of this survey definitely listens to radio, and the "why" of that are good questions. Jacobs asked them. As we see in the graphic below, ease-of-use and free-of-charge are two big reasons.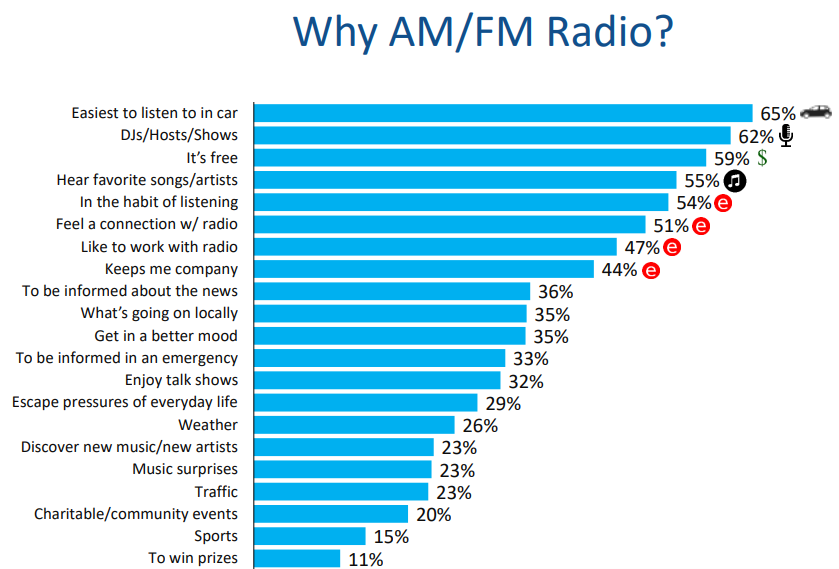 Note, in the extensive list of favored AM/FM characteristics, that DJs (the personality of the medium) are more important than songs/artists (the content of the medium).
"Smart speaker penetration has flatlined, but current owners keep buying more of them." –Techsurvey 2022
How are survey respondents using their smart speakers? Streaming music received 38% of responses to the "frequently use" question, while AM/FM is in third place with 30%.
Jacobs Media has been examining radio/audio in the car for many years. In this 2022 research, for the first time Bluetooth capacity in the car overtakes FM radio as the most important feature among new car buyers, overtaking FM radio: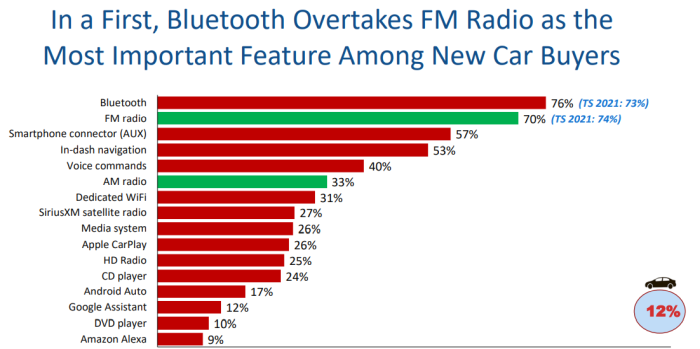 Eight in ten can connect a phone in their cars, we learn. Listening to AM/FM is 56% (down from 62% in 2018.) And in cars with built-in digital connections, "a majority of time spent with audio is digital or Sirius XM.
"Sirius XM remains a prime threat to broadcast radio, widening its listening locations to home and work." — Techsurvey 2022
In summary, age breakdowns are a big part of the learnings here. Jacobs Media illustrates it this way: